Internet Boom Times Are Over, Says Mary Meeker's Influential Report
Global internet and smartphone user growth are slowing dramatically, but at least things are looking up in India.
by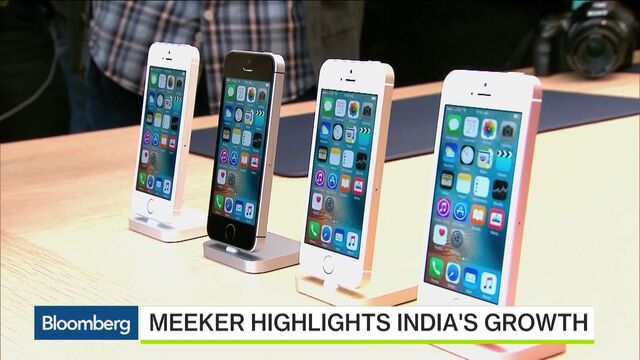 Growth of internet users worldwide is essentially flat, and smartphone growth is slowing, too. Those sobering insights were among the hundreds packed into the much-awaited Internet Trends report, an annual tech industry ritual led by Mary Meeker, a general partner at Kleiner Perkins Caufield & Byers.
Wearing an Apple Watch while standing at a podium onstage at Recode's technology conference in Rancho Palos Verdes, California, on Wednesday, Meeker blazed through highlights from her 213-slide presentation in roughly 20 minutes. She said the number of global internet users hovers around 3 billion, with new ones slow to come online. She attributed the slowdown to stagnating gross domestic product. Global GDP growth in six of the last eight years was below the 20-year average.
Developing countries have proven harder to capture than expected because internet access remains inaccessible or unaffordable for many, the report said. Here are some other highlights from the report:
India is the one country where internet usage is growing, up 40 percent compared with 33 percent a year ago. India passed the U.S. to become the No. 2 global market behind China in 2015.
The Asia Pacific region represented 52 percent of smartphone users globally in 2015. The rapid growth in recent years has begun to slow, dropping to 23 percent in 2015 from 35 percent in 2014.
North America, Europe, and Japan represented 63 percent of global GDP in 1985. By 2015, their contribution dropped to 29 percent. China and emerging markets in Asia represented 63 percent of global GDP last year.
Online advertising is still not very effective. Advertisers are spending an outsize amount on legacy media.
Global birth rates are down 39 percent since 1960. So where will technology growth come from? Who knows, but at least there's this: Global life expectancy is up 36 percent since 1960.
Meeker co-authored the first Internet Report in 1995 as an analyst at Morgan Stanley. She regularly presented the findings at tech conferences, where Silicon Valley executives would pack the room in search of insights about what's happening in their industry. She helped identify early opportunities in China and India. Meeker left Morgan Stanley in 2010 to join Kleiner Perkins as a general partner while continuing to write analyst reports.
Despite the doom and gloom in this year's report, some businesses should be optimistic. Meeker highlighted opportunities for online shopping companies, live sports viewing, messaging, advertising, and artificial intelligence.
—With Brad Stone
Here's the full presentation:
Before it's here, it's on the Bloomberg Terminal.
LEARN MORE