technology
Gameloft CEO Said to Plan Resignation After Losing to Vivendi
By
Vivendi controls about 56% of the votes after the offer

Vivendi plans to appoint majority of Gameloft directors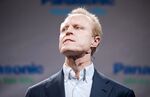 Gameloft SE Chairman and Chief Executive Officer Michel Guillemot plans to resign after shareholders backed Vivendi SA's hostile bid for the video game company he founded, according to a person familiar with the matter who asked not to be named as the information is private.
Vivendi controls about 56 percent of the votes after the offer, French stock market regulator AMF said on Wednesday. Vivendi, led by billionaire Chairman Vincent Bollore, said it will appoint a majority of the directors on Gameloft's board at the company's annual shareholders' meeting on June 29.
Having lost the battle for Gameloft, Guillemot and his brothers must now decide how to best defend Ubisoft Entertainment, the larger of their two gamemakers, from Vivendi's unwanted embrace. The family is working with financial advisers to find a white knight to protect Ubisoft from a similar fate, people familiar with the matter have said. The Guillemots control 15 percent of the votes in Ubisoft, while Vivendi, which says for now it isn't seeking control, owns about 18 percent of its capital and has demanded board representation.
Vivendi and Gameloft representatives declined to comment.

The "most obvious next step" from Vivendi is to move on to acquire Ubisoft, analysts at Liberum Capital Ltd. said Wednesday in a note to clients. Vivendi has the balance sheet to support a deal and "we suspect it may go with a full bid," they said.
Gameloft in February rejected a takeover offer from Vivendi, setting the stage for the months-long battle. A bid by the Guillemots to stop the offer in courts failed last month, leaving the family with a dwindling set of options to prevent the takeover.
Vivendi will reopen its bid for Gameloft from June 2 to June 15 on identical terms to the 8 euro-a-share offer it made last month.
Before it's here, it's on the Bloomberg Terminal.
LEARN MORE