French Railways Disrupted as Hollande Tries to Limit Strikes
by and
Rail strike seen affecting 40% of high-speed train services

Fuel shortage recedes as trucks restock gas stations: Total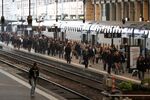 French commuters faced disruptions Wednesday from striking rail workers as President Francois Hollande sought to contain labor unrest that has already caused some gas stations to run dry over the past week.
National train operator SNCF said six in every 10 high-speed trains should be running despite the action led by three unions, while fewer than half of the services will be functioning on other lines. Three out of four Thalys trains between Paris and Brussels will run, while Eurostar services between the French capital and London should be unaffected, SNCF said.
Hollande is scrambling to calm the unrest before the Euro 2016 soccer tournament begins in France next week. The president vowed again Tuesday to press ahead with the labor reform that has sparked the backlash as executives expressed increasing frustration at bottlenecks in the employment rules that they say are preventing job creation.
"I don't understand why France cannot achieve what other countries have, which is to discuss these issues and reform what needs to be reformed," Michel Landel, chief executive officer of catering company Sodexo SA, said in a Bloomberg Television interview. "What we need to do in France is to have employment recover, to find jobs for those who have no jobs," he said.
France's unemployment rate remains above 10 percent, roughly twice the level of the U.K. and Germany.
Multiple Strikes
Workers on temporary contracts, a leading indicator for job creation, rose 9.1
percent in April from a year earlier, reaching the highest level since December
2015, according to Prism' Emploi, the French trade group of staffing companies.
The recovery of the first four months of the year remains "relatively modest"
compared to previous economic pickups of 1997 and 2010, the lobby said May 30.
The government began speaking directly to rail unions in recent days, offering concessions over the objections of rail company managers. France's second-largest union CGT has also called for a stoppage on Paris's metro and bus services starting Thursday, and for a 24-hour strike at ports. Paris metro and bus traffic will run as normal, while suburban trains will face some disruptions Thursday, the operating company RATP said in a statement Tuesday.
The UNSA-INCA union of air-traffic controllers has also called for a strike from June 3 to June 5, and Air France's main pilot union, the SNPL, said that 68 percent of its members voted to strike in coming weeks to protest the airline's plans to cut pay.
Travel disruptions are also exacerbated by heavy rainfall that led to floods in several parts of the country. In the Paris region, May has been the rainiest month since 1960, according to Meteo France, which has placed the areas of Loiret and Seine-et-Marne South and East of Paris on red alert until Thursday 4 p.m. The A10 highway remained closed near Orleans Wednesday, according to operator Vinci SA.
Fuel Supplies
The situation at France's gas stations has improved since last week, when there were long lines of motorists waiting to fill up across the country. The government has lifted blockages at depots and oil retailers have boosted deliveries by laying on more fuel trucks.
Total SA, which operates 2,200 gas stations across the country, said 102 were out of fuel as of midday Wednesday, and another 221 faced partial shortages. That compares with 127 and 288, respectively, a day earlier.
Four of Total's refineries remain halted, while the La Mede plant is running at 80 percent of its capacity and has resumed fuel shipments by pipeline, Total said. Exxon Mobil Corp.'s refineries in Gravenchon and Fos-sur-Mer are working and sending fuel to gas stations, spokeswoman Catherine Brun said Wednesday.
About 20 percent of gas stations were dry or faced partial shortages, Union Francaise des Industries Petrolieres said in a statement Tuesday. That's down from 30 percent at the end of last week, according to the government. The business federation called for a return to a normal situation "as soon as possible" at refineries and oil terminals that are still affected by strikes.
Some employees of CIM-CCMP, the operator of Le Havre's oil terminal, decided to extend their strike until next Monday midday, meaning that tankers aren't entering the port, CGT representative Mathias Jeanne told Bloomberg by text messages Wednesday. Some CIM employees who aren't on strike are ensuring that crude oil from CIM's storage facilities continues to be sent to the Exxon refinery in Gravenchon, he said.
At Electricite de France SA, strikers reduced output of hydroelectric dams by 520 megawatts Wednesday afternoon, grid operator RTE said on its website. On May 26, they reduced nuclear output by more than 5,000 megawatts.
Before it's here, it's on the Bloomberg Terminal.
LEARN MORE