Auto Sales Fall First Time Since January as Growth Era Subsides
by and
GM, Ford U.S. deliveries declined more than predicted in May

Industry sales dropped 6% in month with 2 fewer sales days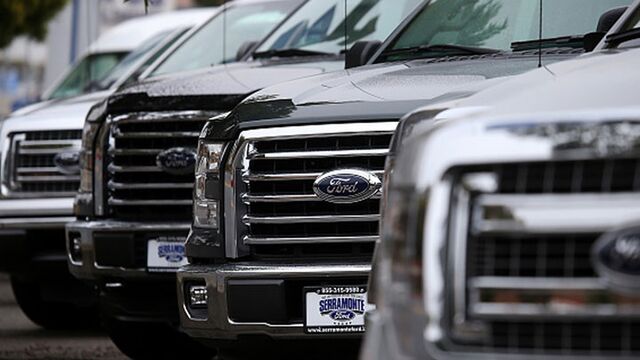 U.S. auto sales fell in May, marking the second monthly decline this year and reinforcing the idea that the demand for cars and trucks, while still historically robust, has reached a plateau.
The declines at General Motors Co., Ford Motor Co. and Toyota Motor Corp. were all greater than analysts predicted, sending their shares lower. Industrywide sales dropped 6 percent to 1.54 million, the first decline since January, researcher Autodata Corp. reported.

The results for May, whose Memorial Day weekend promotions make it a bellwether for gauging buyer appetite, show consumer demand for cars leveling off faster than executives predicted. The automakers' reports join other economic data, including jobs numbers coming Friday, that Federal Reserve policy makers will examine when considering a possible rate hike this month or next.
"The economy is still a new building, it's still coming to fruition," Rebecca Lindland, senior analyst for auto researcher Kelley Blue Book, said in an interview. "It's not something anyone would describe as this really strong, robust growth machine yet."
The economy expanded modestly across most of the U.S. since mid-April, tightening the labor market and nudging wages higher, a Federal Reserve report showed today. Prices in federal funds futures contracts suggest a 24 percent chance of a rate increase this month and 53 percent by the policy makers' July session.
All the Single Ladies Also Get Credit for Booming SUV Demand
The industry's annual sales pace, adjusted for seasonal trends, was 17.5 million vehicles for the month, Autodata said. The average analyst estimate was 17.4 million in a Bloomberg survey.
Detroit-based GM 's deliveries plunged 18 percent, missing estimates for a 13 percent drop. Light-vehicle sales slid 6.1 percent at Ford, 9.6 percent at Toyota and 4.8 percent for Honda Motor Co. Deliveries at Nissan Motor Co. matched predictions for a 1 percent drop, while Fiat Chrysler Automobiles NV surprised forecasters with a small gain.
Automaker shares declined, with GM falling 3.4 percent, the most since January, while Ford dropping 2.8 percent.
Fewer Days
All of the six largest carmakers had been predicted to report declines for May, which had two fewer sales days than the year before.
"Obviously we're hoping for improvement" in the industry's sales rate as the year goes on, Mark LaNeve, Ford's U.S. sales chief, told analysts and reporters on a conference call. "I talk to the dealers about this all the time: What needs to be low is still low -- unemployment, interest rates, gas prices -- and what needs to be high is still high -- consumer confidence, the housing market."

One reason deliveries have softened is that carmakers aren't trying to push sales with big rebates, said Kevin Tynan, auto analyst with Bloomberg Intelligence, a unit of Bloomberg LP. "Rather than chasing volume for the sake of volume, they are making better margins," he said in a phone interview.
Automaker Results
Among the highlights from today's reports:
Sales of Ford and Lincoln passenger cars plunged 25 percent, led by the Taurus sedan, once the company's flagship. F-Series pickup sales rose 9 percent and van sales had their best May since 1978, aided by the full-size Transit.
GM's retail sales fell 13 percent and the company continued to pull back on deliveries to rental-car fleets. The largest U.S. automaker said it sold 22,000 fewer rental cars in the month, the biggest reduction in the past two years.
Every Nissan-badged car except Maxima and Versa declined, leaving the brand with a 2.9 percent decline in car deliveries. Nissan brand light-truck sales set a May record, with Rogue crossover sales rising 5.9 percent.
Fiat Chrysler's 1.1 percent gain surprised analysts who predicted a 0.7 percent decline. Jeep sales, the Italian-American carmaker's profit engine, rose 14 percent from a year earlier, while minivan deliveries jumped 84 percent.
Volkswagen AG's namesake brand sales fell 17 percent, the seventh consecutive monthly decline as the German automaker struggles to recover from a diesel-emissions test scandal. On average, analysts had predicted a 21 percent slide.

Sales by Honda's Acura luxury division dropped 20 percent. The decline was smaller among its namesake-brand cars, down 0.4 percent. The Civic car posted a 2.7 percent gain.
Before it's here, it's on the Bloomberg Terminal.
LEARN MORE