business
European Banks Feel the Pinch From Draghi's Negative Rates
By
Net interest income falls for first time in two years

Low or negative rates are 'right monetary policy' Draghi says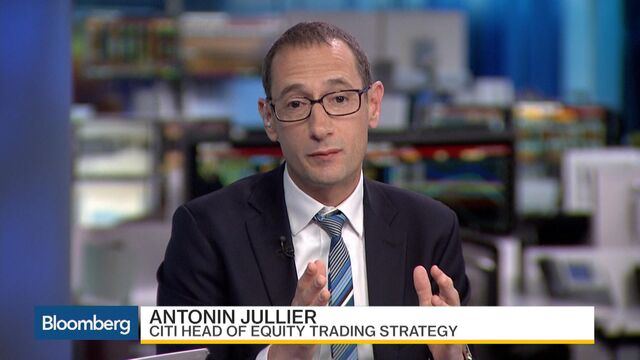 The largest banks in the euro region earned less from lending in the first quarter as the European Central Bank's experiment with negative interest rates compounded the pain of a trading slump and rising regulatory costs.
A drop in net interest income, the first in two years, may worsen after the ECB lowered its deposit rate to minus 0.4 percent in March, meaning it's charging lenders more to hold their excess cash. The central bank left rates unchanged at a meeting Thursday and signaled they will remain at current or lower levels for an extended period to encourage an economic recovery.

"In the banking world, we are currently struggling with negative interest rates," said John Cryan, Deutsche Bank AG's chief executive officer, at a conference in New York on Tuesday. "We will struggle more as the effect of those negative interest rates plays out into our deposit books."
Net interest income, the difference between what lenders charge customers to borrow and what they pay for funding such as deposits, fell a combined 2.5 percent at the region's 13 biggest publicly traded banks in the first quarter from a year earlier, data compiled by Bloomberg show. Their pretax profit slid 20 percent.
For a Bloomberg Quicktake on negative interest rates, click here.
"The interest-rate environment comes at a bad time," said Dieter Hein, an analyst at Fairesearch-Alphavalue. "Banks face a lot that is weighing on them at the moment, with higher regulatory costs, capital requirements, levies and in some cases litigation."
Lenders are raising fees when possible and cutting deposit rates to ease the impact of the ECB's measures. Some are also taking previously unimaginable steps, like requiring corporate clients to pay interest on their deposits and even storing cash in vaults to avoid charges at the central bank. The measures aren't proving sufficient.
Commerzbank AG, Germany's second-biggest bank, blamed negative rates for cutting revenue by about 90 million euros at its corporate- and consumer-banking divisions in the quarter.
The German lender will probably be "one of the biggest losers from low rates," said Morgan Stanley analysts, including Huw Van Steenis, in a note Wednesday. "We expect negative rates to keep dragging, with mitigating actions not showing any effect" before 2017 or 2018, they wrote.
'Melting Away'
If interest rates stay where they are, the combined lending revenue at Germany's five publicly traded banks will fall by 2.1 billion euros in 2018, or about 9 percent, from last year, estimated Jochen Schmitt, an analyst at Bankhaus Metzler in Frankfurt.
"Negative rates are hurting banks," said Mark Haefele, global chief investment officer of UBS Wealth Management, in an interview in London on Thursday. "A lot of investors are unsure about how much pressure banks are going to remain under on the earnings front as a result of that."
As old loans mature or are refinanced, euro-zone banks will be left with an increasing stock of newer loans made at lower interest rates. Those may prove less profitable if the bank's funding costs don't decline as well.
"We're going to start seeing profitability come under more and more pressure as the better-earning assets melt away," said Michael Huenseler, who helps manage 17 billion euros, including bank bonds, at Assenagon Asset Management in Munich.
ECB Vice President Vitor Constancio, speaking to Bloomberg Television last week, said that while negative rates over time may hurt bank profitability, the net effect of the central bank's stimulus programs has benefited lenders by boosting the price of assets, reducing bad loans and sparking an economic recovery.

The ECB, led by President Mario Draghi, expanded its monthly bond-buying program by a third in March and launched a new series of long-term loans to banks to stimulate the economy. Rates on those loans can be as low as the interest rate on the deposit facility, indicating the ECB may pay lenders to borrow under certain conditions.
Draghi, 68, said at a press conference Thursday that low or even negative interest rates are the "right monetary policy measure" to restore growth.
There's some evidence the ECB's efforts are starting to have the desired effect. Banks increased lending to non-financial companies and households almost every month in the last year, after an almost three-year contraction.

While the central bank may brush off bankers' complaints, it can't ignore investors' concerns that lenders are becoming riskier, said Huenseler.
Since the ECB first cut the deposit rate below zero in June 2014, the cost of insuring European financial firms against default has doubled, based on the Markit iTraxx Europe Subordinated Financial Index of 30 companies.
Yet even some bankers see little alternative to the ECB's drastic measures.
"It's necessary for the economic environment in which we move, even though it's not good for us," Jose Antonio Alvarez, CEO of Spain's Banco Santander SA, told reporters in April. "Any retail bank, including us, would like to have higher interest rates. That clearly helps the business, the margins, the capacity to generate results."
— With assistance by Jan-Henrik Foerster, Macarena Munoz Montijano, and Simone Meier
(
Updates with ECB rate outlook in second paragraph, comment from Mario Draghi in 15th paragraph.
)
Before it's here, it's on the Bloomberg Terminal.
LEARN MORE