Duterte's Team Includes Ex-Marine Philippine Coup Plotter
by and
Ex-marine who plotted against Arroyo will head customs bureau

Journalist group denounces Duterte remarks on media killings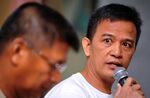 Philippine President-elect Rodrigo Duterte expanded his administration to include a former coup plotter and held off on offering a position to incoming Vice President Leni Robredo.
Nicanor Faeldon, a former marine captain who took part in the 2003 uprising against ex-President Gloria Arroyo and a second coup attempt in 2007, will head the Bureau of Customs, the government's second-largest revenue agency, Duterte told a briefing in Davao Tuesday. The Bureau of Internal Revenue, which collects more than 70 percent of state funds, will be led by lawyer Cesar Dulay, he said.
Benjamin Diokno, who was budget secretary under former President Joseph Estrada, will reprise his role, while former National Treasurer Leonor Briones will head education. Judy Taguiwalo, a university professor imprisoned during the dictatorship of Ferdinand Marcos, will be the social welfare secretary. Briones and Taguiwalo are the only two women to receive cabinet posts so far. Duterte described his team to be people "of integrity and honesty."

The incoming president hasn't offered a position to Robredo yet because he doesn't want to offend her rival in the race and his friend Bongbong Marcos. His friendship with the son of the former dictator is a "political reality," he said. In the Philippines, candidates for the two top offices run independently of each other, so Robredo was not on a ticket with Duterte.
Journalists Targeted
Duterte reiterated his pledge to crush criminals and drug lords, maintain an independent approach to national security and diplomacy and forge ahead with a campaign against corruption. "Corrupt" journalists were also considered legitimate targets of assassination and aren't protected by laws safeguarding freedom of expression, he said. 
The Philippines is one of the most dangerous nations for journalists. In one of the deadliest attacks, 32 members of the media were among 58 people killed during an election-related massacre in Maguindanao in 2009. One of the lawyers who defended the clan accused of orchestrating the killings is Salvador Panelo, who is now Duterte's press secretary.
Duterte's statement is a declaration that it's "open season to silence the media, both individual journalists and the institution, on the mere perception of corruption," the National Union of Journalists of the Philippines, a group of 1,500 media practitioners, said in a statement. The group said it does not gloss over the fact that corruption is among the most pressing problems faced by the media, but "it is one thing to recognize a possible reason for murder; it is a totally different thing to present this as a justification for taking life."
The incoming president, who plans to start work at 1 p.m. and commute to and from Davao in the early days of his term, said Chinese President Xi Jinping is "great" but the Philippines will be charting its own course and won't "please anybody but our interest."
Under outgoing President Benigno Aquino relations with China have been strained over a territorial dispute in the South China Sea.
Before it's here, it's on the Bloomberg Terminal.
LEARN MORE