Draghi Wants ECB Easing Solo Joined by Europe Reform Chorus
by
ECB expected to leave rates unchanged at 1:45 p.m. in Vienna

President will likely press governments to step up reforms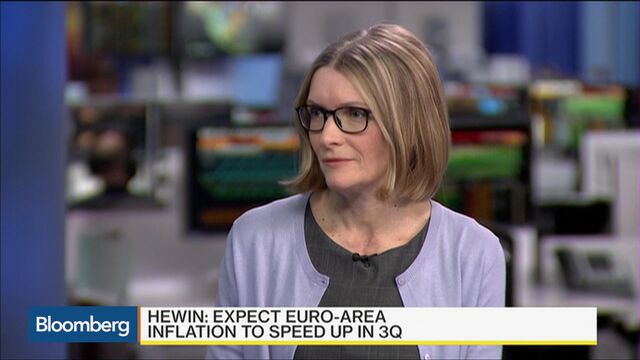 If Mario Draghi criticizes euro-area governments on Thursday, he knows the world's economic policy advisers support him even though the intended audience might not be listening.
The European Central Bank president will probably have little fresh monetary stimulus to offer when he briefs reporters in Vienna after the Governing Council sets policy, giving him room to address rising concern that politicians aren't pulling their weight. Updated economic projections are likely to reinforce the perception that despite massive monetary easing, the ECB is still struggling to meet its inflation goal.
Draghi might draw from the Organisation for Economic Cooperation and Development, which lambasted rich-world nations for failing to overhaul their economies and overburdening central banks in a report on Wednesday, echoing sentiment from the International Monetary Fund. The ECB is sufficiently worried about its credibility that it plans to study whether government sluggishness is disinflationary, and has stepped up appeals for steps ranging from targeted public spending to a finance minister for the entire 19-nation bloc.
"It's been quite noticeable over the last three or four months how those calls have got rather stronger," said Jonathan Loynes, chief European economist at Capital Economics in London. "Monetary policy is beginning to approach its limits. They are understandably saying: 'we can do more, but we're running out of ammunition and we need help."'
To follow Bloomberg's live blog on the ECB's rate decision, click here.
The Governing Council will leave its main refinancing rate unchanged at zero, the deposit rate at minus 0.4 percent, and the asset-purchase program at 80 billion euros ($89 billion) a month, according to economists surveyed by Bloomberg. The decision will be announced at 1:45 p.m. Vienna time and Draghi will hold his press conference 45 minutes later.
The single currency traded at $1.1188 at 8:49 a.m. Frankfurt time, little changed on the day and down 0.75 percent since the last Governing Council meeting on Apr. 21.
One euro-area official, who spoke on condition of anonymity because the forecasting process is private, said that the ECB's inflation and economic-growth outlook will probably be upgraded mildly for this year and then stay unchanged over the rest of the horizon.
Such an outcome would leave the estimate for average inflation in 2018 at 1.6 percent, still below the goal of just-under 2 percent. An ECB spokesman declined to comment on the projections.

While the ECB would at least avoid downgrading its economic projections for the first time in a year, a failure to lift the forecasts significantly would be a blow. The previous projections in March didn't incorporate the effect of an enlarged stimulus program, and Vice President Vitor Constancio said only last week that he personally believed consumer-price growth in two years would exceed estimates.
In what should be a boon for hoteliers and restaurateurs, Vienna will also host a meeting of the Organization of Petroleum Exporting Countries on Thursday. That gathering might provide another boost for the ECB if oil producers agree on measures that support energy prices. Brent crude has climbed more than 75 percent since January, and will eventually feed into euro-area inflation.
Yet without fundamental structural reforms, that's likely to be of scant solace to Draghi. Core inflation was just 0.8 percent in May and headline consumer prices failed to increase for a fourth consecutive month. Euro-area negotiated wages rose a nominal 1.4 percent in the first quarter, the slowest pace since the inception of the single currency.
ECB officials are stressing that they can't go it alone forever, with three of them hitting the subject at the same conference in Madrid last week.
Sleeping Beauty
Executive Board member Peter Praet warned that the time is running short for the euro area to set out a road map for a stronger monetary union. Bank of France Governor Francois Villeroy de Galhau called for a "full coordination" of euro-area national economic policies with a joint treasury and finance minister. Dutch central-bank head Klaas Knot urged interim "no-regret" options such as simpler European Union budget rules, a sovereign-debt restructuring mechanism and more private risk-sharing.
A week earlier, Slovak central bank Governor Jozef Makuch told a conference in Slovenia, that a sustainable and responsible fiscal policy cannot remain a "sleeping beauty."
After April's meeting, Draghi said the Governing Council was putting a "renewed emphasis" on the need for structural reforms. He may well reiterate that in Vienna. The question is whether governments will respond.
"We've seen some efforts in a number of countries to move in the direction of structural reforms, but it's difficult to say that it's any kind of game-changing package," said Nick Kounis, head of macro research at ABN Amro Bank NV in Amsterdam. "The ECB will probably be disappointed. There is a sense that they are talking to a brick wall."
Before it's here, it's on the Bloomberg Terminal.
LEARN MORE