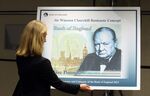 Mark Carney may not want to talk about battles over Europe, but his appearance on Thursday might make it hard to avoid.
The Bank of England governor, now in a self-imposed European Union purdah before the June 23 referendum, will unleash a media blitz to launch Britain's new 5-pound ($7) banknote at Blenheim Palace. The Oxfordshire stately home, named after a 1704 victory by a European coalition, was the birthplace of wartime leader Winston Churchill, who features on the bill and has been cited by both sides in the Brexit debate.

Carney has angered pro-Leave campaigners by gradually intensifying his rhetoric on the vote on EU membership, and last month warned an exit could spark a recession. While he's currently pledged to follow a civil-service moratorium on the debate, he may find it difficult to dodge questions after being so vocal in recent weeks. 
"It's one of these things, especially because it's Churchill and the Brexit debate is so prominent, no doubt journalists are going to try to ask Carney questions about all things referendum-related," said Chris Hare, an economist at Investec Plc in London. "The governor will try to really get across the message of the note itself, rather than get embroiled in all the politics."
The Bank of England's switch to polymer was unveiled by Carney shortly after he took office in 2013 and the bank says the benefits include resistance to dirt and the ability to include clear portions that make counterfeiting more difficult. Churchill replaces prison-reformer Elizabeth Fry on the fiver, which will be issued in September, while a 10-pound note featuring writer Jane Austen will follow next year and a 20-pound note with painter J.M.W. Turner by 2020.
 "While the key driver was counterfeit resilience and making sure people have good quality notes in their pockets, it was also great that environmentally polymer was seen as more beneficial," the BOE's chief cashier, Victoria Cleland, said in a BBC interview on Thursday. "Because the polymer notes last longer, it means you don't have to print so many, and therefore over time you should save production costs as well."
The unveiling of the Churchill design comes after the war-time leader was posthumously embroiled in Britain's Brexit debate when his image was used in a campaign video by anti-EU group Vote Leave. His family denounced the clip and said the former prime minister had believed in European co-operation. 
Adding to the symbolism, Blenheim, a battle in the War of the Spanish Succession fought by a multinational army including British, Dutch and Prussian forces against an alliance of France and Bavaria, proved a turning point that curtailed Louis XIV's ambitions to dominate the European continent. The Duke of Marlborough, an ancestor of Churchill, led the winning side and was granted his estate by Queen Anne as a reward.
Before it's here, it's on the Bloomberg Terminal.
LEARN MORE