Denmark's $150 Billion Brexit Exposure Sitting in Pension Funds
by and
Danish investors and pension funds may start repatriating billions of dollars in assets to protect themselves from currency losses amid concern that a British exit from the European Union will send markets into turmoil.
Jyske Bank estimates Danish pension funds alone have about 1 trillion kroner ($150 billion) in offshore positions that aren't hedged, leaving them exposed if investors hoard safe-haven assets such as kroner in the event of a so-called Brexit.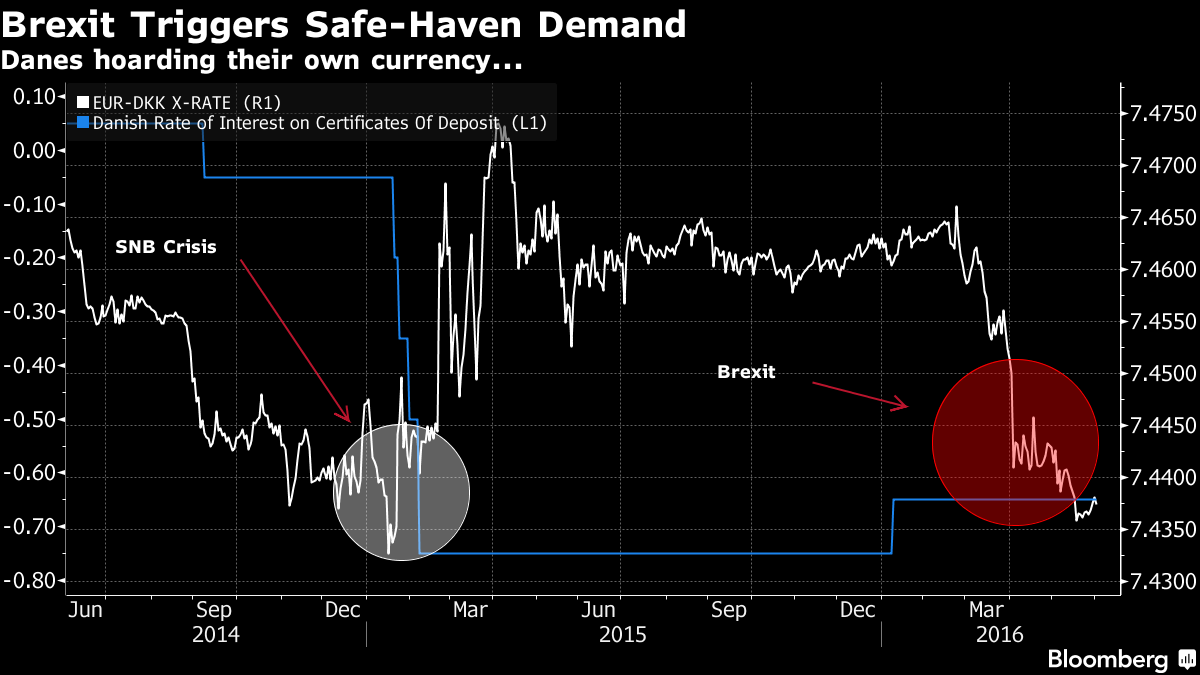 "In an extreme case, that money will be repatriated or hedged against currency risks should there be financial uncertainty, for example, in the event of a Brexit," according to Niels Roenholt, the bank's chief economist.
The pound sank on Tuesday after a Guardian newspaper poll put the 'Leave' camp in the lead ahead of Britain's June 23 referendum. A Bloomberg poll of polls shows 44 percent of voters backing a Brexit with 41 percent in favor of remaining, though a probability calculation still shows the U.K.'s departure from the bloc is an unlikely outcome.
SNB Replay?
Jyske Bank says a Brexit probably won't trigger a repeat of the currency market turmoil that followed Switzerland's decision to abandon its ties to the euro in January 2015. Back then, speculators quickly turned their sights on Denmark amid conjecture its euro peg would also fail. In the event, the Danes prevailed, though only after the central bank cut its main rate well below zero and almost doubled foreign reserves to about 40 percent of gross domestic product.
This time, "even a minor amount of pressure will lead to currency interventions and a rate cut" in Denmark, Roenholt said in a note. He foresees a 10 basis point cut to minus 0.75 percent, followed by more currency interventions.
Denmark's substantial current account surplus already puts pressure on its euro peg. "But if Danish investors with large offshore positions today should decide to repatriate just a small part of that money, or hedge it, in a situation in which there's turmoil, that would be enough to add to pressure on the peg," Roenholt said. Jyske Bank puts the probability of a Brexit at 30 percent.
Then again, should Britain vote to remain in the EU, "it will likely trigger a relief rally," according to Nordea. That would support the pound and "risky assets," a team of analysts led by Johnny Bo Jakobsen wrote in a note on Wednesday.
Before it's here, it's on the Bloomberg Terminal.
LEARN MORE