Brazil's Economy Shrinks Less Than Forecast in First Quarter
by
Government spending rose before impeachment trial approved

Family consumption and investment continued to decline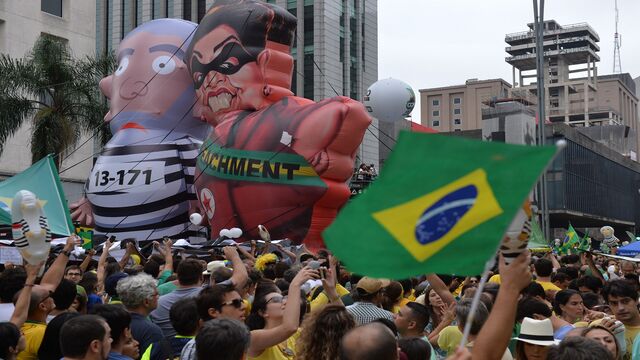 Latin America's largest economy shrank less than all but two economists expected in the first quarter, indicating Brazil may be close to hitting bottom after a confidence crisis scuttled demand and plunged the nation into its worst recession in decades.
Brazil's gross domestic product contracted 0.3 percent in the three months ended in March, after a revised 1.3 percent drop the previous quarter, the national statistics institute said Wednesday in Rio de Janeiro. The figure was better than the median estimate for a 0.8 percent decline from 45 economists surveyed by Bloomberg.
Business and consumer confidence that plunged in recent years stabilized at historic lows in the first quarter of this year. Sentiment has since recorded increases after President Dilma Rousseff was suspended pending her impeachment trial. Today's data shows the 2016 contraction will be shallower than that of last year, according to Bruno Rovai, Brazil analyst at Barclays Plc in New York.
"The worst of the recession was in fact in the second half of last year, and this year's recession will be more contained than last year," Rovai said by phone. "Confidence indexes showed an improvement in April and May, and this is happening on the back of the government change. I believe this will be sustained on the business side."
Acting President Michel Temer, who took the reins of the country last month, said unemployment was on the rise and inflation required caution. He said his administration is taking measures to recover confidence and put the economy back on track, but that more sacrifices will be needed.
"Brazil is submerged in one of the big crises of its history," Temer said during a swearing-in ceremony for the new heads of state banks and the oil company Petrobras. "But I am absolutely convinced that it's possible to revert the situation and recover confidence."
The finance ministry said in a statement the economy is expected to start recovering in the next few quarters "largely due to the timely implementation of measures recently announced."
Swap rates on the contract due in January 2019 rose 3 basis points to 12.78 percent at 12:53 a.m. local time. The real gained 0.3 percent to 3.60 per U.S. dollar.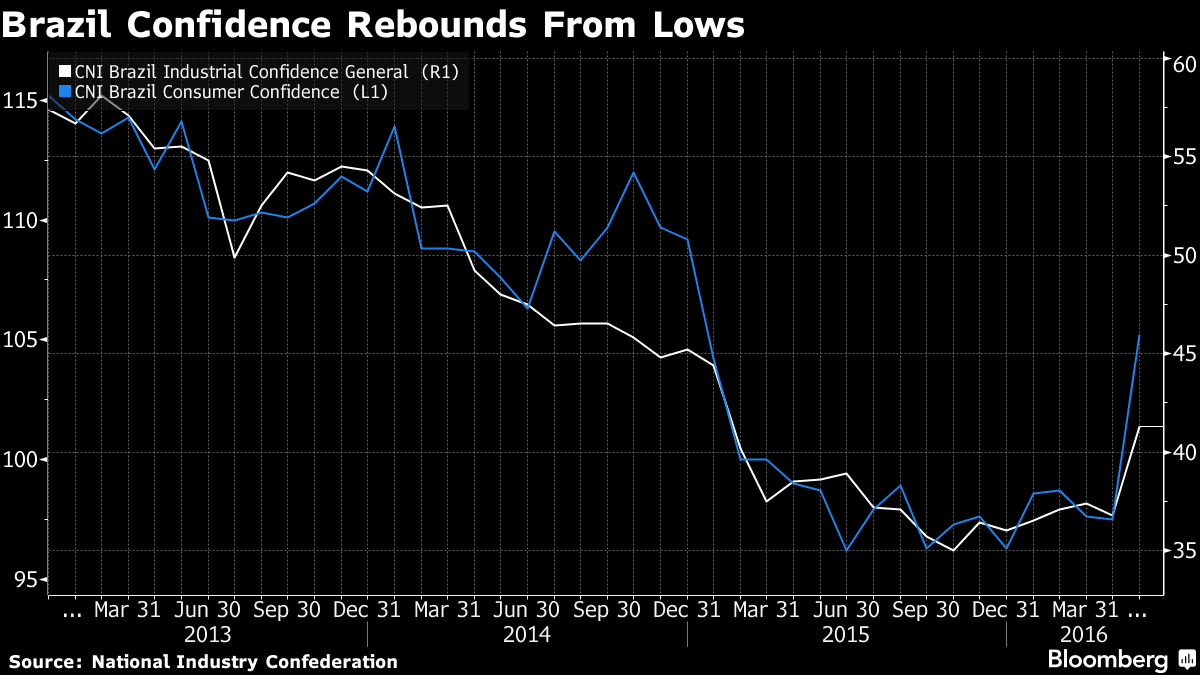 Political Turnover
Country risk, as signaled by the cost to insure Brazil's debt for five years, reached its highest three-month average in the first quarter since 2004. That's come down markedly since the lower house of Congress voted to proceed with impeachment against Rousseff in April, and she was suspended the following month when the Senate followed suit. Temer assumed the post on an interim basis and named Henrique Meirelles as his finance minister.
Meirelles, a former central bank chief and BankBoston president, is pushing for structural measures including overhaul of the bloated pension system to revert a deterioration in government accounts that has already cost Brazil its investment-grade status. Speaking in Rio on Monday, he acknowledged that political uncertainty vastly shortened the decision-making horizons of both shoppers and investors, and that Brazil's growth potential has fallen in recent years.
"On the other hand, an economy that has two years of recession of almost 4 percent has a lot of idle capacity," Meirelles told business leaders in a speech. "That permits a restart of growth that, with all the right macroeconomic factors, could be even faster than is being foreseen. But we'll see."
Exports rose 6.5 percent, following a 0.1 percent increase last quarter. Government consumption rose 1.1 percent, following a 2.9 percent drop.
Yet there's no shortage of reasons for skepticism. Investment fell in the first quarter by 2.7 percent, marking the 10th-straight contraction and immediately following a revised 4.8 percent drop. Family consumption fell 1.7 percent. The decline of private domestic demand was in fact worse in the first quarter than the prior quarter, according to Alberto Ramos, chief Latin America economist at Goldman Sachs Group Inc.
Government spending was key in explaining the smaller first-quarter contraction, according to a note from Neil Shearing, chief emerging markets economist at Capital Economics Ltd. The jump is "reflecting a last-ditch attempt by the Dilma administration to win back public support," Shearing said. "But with fiscal policy now set to tighten, this prop to the economy will go."
'Capital Deepening'
Brazil's growth potential has fallen to less than 2 percent from as high as 3 percent a few years ago, according to Ramos from Goldman Sachs. That can rise if Brazil "embarks on a capital deepening drive," and there are already signs confidence to invest is re-emerging, he said. Business sentiment as measured by the national industry confederation jumped in May to its highest in 16 months.
"The series was at historical lows and we've seen an uptick based on the hope that the political transition will lead to better policies, to political stability," Ramos said by phone. "But it's just on hope, we don't have evidence to support it yet."
Economists surveyed weekly by the central bank predict a decline of 3.81 percent in 2016 following a 3.85 percent drop last year.
Before it's here, it's on the Bloomberg Terminal.
LEARN MORE