Brazil Real, Stocks Rise as GDP Report Blunts Political Concern
by and
Brazil's economy shrinks less than forecast in first quarter

Threat to Senate leader creates uncertainty over budget votes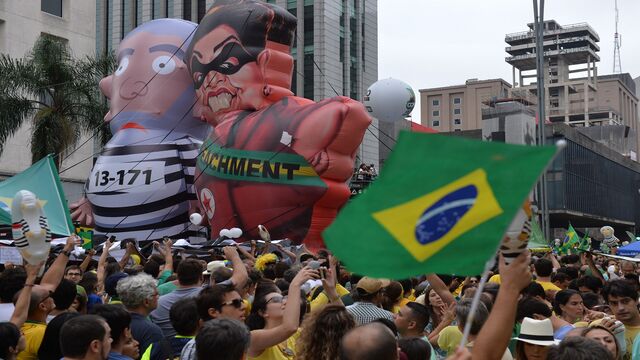 Brazil's currency and stocks gained as data showing the economy contracted less than forecast offset speculation that Acting President Michel Temer will struggle to move beyond political scandals that have bogged down the government.
The real rose 0.3 percent to 3.6015 per dollar and the Ibovespa added 1.1 percent to 49,012.65 on Wednesday. Banco Bradesco SA rallied following a slump Tuesday when federal police accused executives including chief Luiz Carlos Trabuco Cappi of tax fraud.
Bullish investors got a boost Wednesday when data showed Latin America's largest economy shrank less than all but two economists expected in the first quarter, indicating Brazil may have begun to recover after a confidence crisis scuttled demand and plunged the nation into a recession. Meanwhile, newspaper Valor Economico said Senate leader Renan Calheiros could be forced out by prosecutors amid allegations he is attempting to interfere with the so-called Carwash corruption probe. That's clouding the outlook for when Congress will vote on much-needed fiscal measures, said Joao Paulo de Gracia Correa, the head of foreign currency at brokerage SLW in Curitiba, Brazil.
"Temer has just lost two ministers and each day there are reports of different people linked to the government who are involved in the corruption scandal," Correa said. "Better-than-expected economic data is softening the blow for Brazilian assets."
Calheiros's press office didn't immediately reply to a request for comment.
Bradesco added 1.8 percent, following a 5-percent slump on Tuesday. The accusations against Brazil's second biggest lender are distinct from the Carwash corruption investigation that started at the state-run oil producer and contributed to a political and economic crisis that led to the suspension of President Dilma Rousseff and are seen as a threat to adjustment measures proposed by Temer's administration.
"There's certainly a political risk that may curb the speed of any eventual measures," said Raphael Figueredo, an analyst at brokerage Clear Corretora in Sao Paulo. "The economic numbers were better than expected, but there's still a lot to be done."
Traders had piled into Brazilian assets during the first four months of the year on speculation that a change in government would help revive an economy facing its worst recession in a century and shore up the budget. Improving fiscal accounts is key for the government after the country lost its investment-grade credit rating last year.
The cost of hedging Brazil's sovereign debt against losses using five-year credit-default swaps dropped 2 basis points to 360.87 basis points. Swap rates on contracts due January 2018, a gauge of investors' forecasts for interest rates, declined 0.08 percentage point to 12.74 percent.
Before it's here, it's on the Bloomberg Terminal.
LEARN MORE