QuickTake
Brazil Is Unraveling. Here's What's Happening
The big mess in two minutes.
by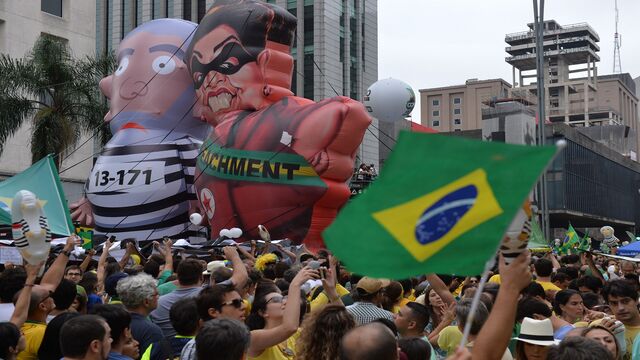 Between a corruption probe, an impeachment trial, and accusations of a coup, it's been hard to keep up with Brazil this year.
Dilma Rousseff, narrowly reelected president in 2014, faced a legislature that blocked her bid to cut costs. The speaker of the lower house, now removed from his post by the Supreme Court, openly abandoned the government coalition, a move his party would follow. The economy was left to sink further and further into recession and is set to hit its worst numbers in more than a century. Companies are putting off investments. As unemployment creeps up and inflation remains high, consumers have cut spending.
QuickTake Brazil's Highs and Lows
The corruption probe, dubbed Carwash, which involves alleged kickbacks at the state-run oil company, Petrobras, has ensnared dozens of politicians and executives. The impeachment trial is based on yet another set of allegations, that Rousseff illegally doctored fiscal accounts to mask the size of the government's budget deficit. Rousseff has accused Vice President Michel Temer, now acting president and the focus of investors' hopes and anxieties, of orchestrating a coup against her. 
His first weeks on the job haven't gone smoothly. Temer appointed market favorite Henrique Meirelles as finance minister but was criticized for nominating an all-male cabinet and eliminating the Ministry of Women, Racial Equality, and Human Rights. He has already lost two of his newly appointed cabinet members to audio leaks tied to the Carwash probe. 
Rousseff isn't being investigated in Carwash. So there's that.
(
Corrects an earlier version of the video to show that Luiz Inacio Lula da Silva served only two terms as Brazil's president.
)
Before it's here, it's on the Bloomberg Terminal.
LEARN MORE