Biggest Economies Seen Topping the Medal Table at Rio Olympics
by
U.S. to lead with 108 medals, followed by China, PwC says

Jamaica to punch above its economic weight at the games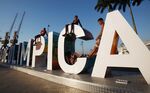 How do you predict who'll top the podium at the 2016 Olympics? The size of competing nations' economies may play a significant role, according to PricewaterhouseCoopers.
As Brazil prepares to fire the starting pistol for the August games, PwC has weighed economic clout alongside countries' performance at the past two games and the potential boost from being host to estimate that the U.S. will top the medals table again.

The world's largest economy, which won the 2012 games in London with a total of 103 medals, is set to increase its haul to 108 in Rio de Janeiro. Sporting and economic contender China is predicted to come second with 98, with Russia third -- assuming its track and field team is allowed to compete after a doping scandal. 
It's not all about the money though. While the number of places on the podium generally increases with a country's population and wealth, there are exceptions like Kenya and Jamaica. The Caribbean island is projected to win 0.4 medals for every $1 billion of gross domestic product, compared with around 0.005-0.006 medals for the U.S. and China. Host nation Brazil is also forecast to see a jump despite facing its worst recession in a century.
"David can sometimes beat Goliath in the Olympic arena, although superpowers like the U.S. and China continue to dominate," said PwC Chief Economist John Hawksworth.
And what about 2012 host Great Britain? While the analysis doesn't see the nation replicating the 65-medal glut that gave Britons their best performance in more than a century, the economists predict that it will retain fourth place in the rankings.
Before it's here, it's on the Bloomberg Terminal.
LEARN MORE