America's New Role in Global Oil Markets Is Being 'Put to the Test'
The fracklog could soon be unleashed, cautions Citigroup.
By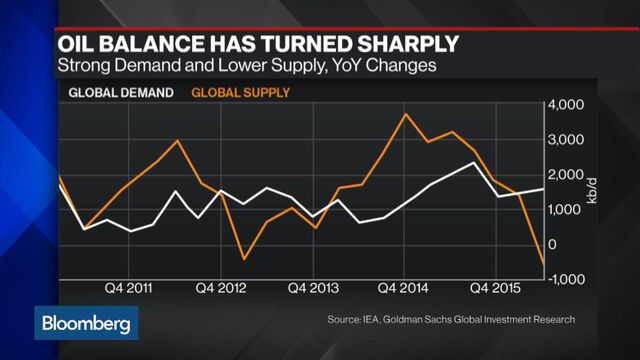 The shale revolution helped drive oil prices down to levels not seen in over a decade.
Now, some analysts are wondering whether U.S. producers will be able to cap the rally in West Texas Intermediate crude oil futures, which have flirted with $50 per barrel in recent sessions ahead of Thursday's OPEC meeting in Vienna.
And now it's time to see whether the best cure for higher oil prices is in thousands of drilled but uncompleted wells, according to a team led by Citigroup Inc. Global Head of Commodities Research Ed Morse.
The so-called "fracklog" of these wells in major U.S. energy-producing regions has long been touted as a force that could potentially rebalance the oil market and snuff out nascent advances in crude.
"U.S. shale has been widely labeled as the short-term 'swing producer' in oil markets, and now that will be put to the test," wrote Morse.
Part of the game-changing nature of shale is the extent to which lead times are shortened, as producers are able to ramp up output relatively quickly in the event that oil prices rise. The fracklog further accentuates the responsiveness of energy companies to a recovery in crude.
"The inventory of drilled-but-uncompleted wells (DUCs) in the U.S. has been building during the cyclical downturn, driven by companies with contracted drilling services drilling but postponing costly well completions," he wrote. "At $50 per barrel these will likely be completed whilst at $60 per barrel, drilling programmes will likely resume and the true test will be whether U.S. crude supplies can be responsive enough to higher prices to actually limit their ascension."
Citi's base case calls for U.S. crude output to decline by 650,000 barrels this year. But the recent firming of oil prices could encourage companies to complete these wells,  boosting supply by 400,000 barrels per day or more, said Morse.
Bloomberg Intelligence Analyst William Foiles, however, cautioned that shale companies might not be able to increase output too expeditiously. Job cuts in the oilfield services sector have made producers less nimble, he said.
"It's like a stop light turning green—if everyone were to release their break all at the same time, they would move faster," explained Foiles. "But you don't know that people will, so the person in front (in this case, oil prices) has to release its brake first before then the second car (exploration and production firms) can release its brake and choose to increase completions before the next car (oilfield services companies) can release its brake and finish the wells to get production moving."