AI, Trump, and Gawker: Six Highlights From Amazon's Jeff Bezos Interview
The Amazon CEO discussed a wide range of topics onstage at a tech conference.
By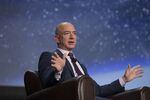 Jeff Bezos spends about as much time talking at industry conferences as he does speaking to Wall Street investors—a few hours a year. Interviewed by technology journalist Walt Mossberg, the Amazon.com Inc. chief executive officer spoke about artificial intelligence, privacy on the internet, his goals with the Washington Post, Amazon's ambitions in entertainment, and more.