Under Armour, Nike Tumble as Sports Authority Takes Toll
by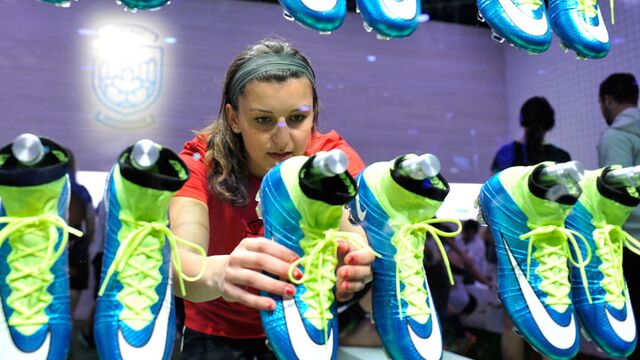 Under Armour Inc. and Nike Inc. declined in New York trading after the Sports Authority Inc. liquidation and competition in the footwear market raised concerns about the athletic-apparel giants.
Under Armour cut its annual forecast on Tuesday, citing the demise of one of its largest customers, Sports Authority. Nike, meanwhile, was downgraded by Morgan Stanley and Bank of America Merrill Lynch. Analysts pointed to mounting competition -- including against Under Armour -- as well as fears of a broader slowdown.
"Many new entrants are fragmenting the market, and Nike is lapping five years of double-digit growth," Morgan Stanley analyst Jay Sole said in a report. "Retail bankruptcies and consumers' shift to online shopping has created heavy excess inventory."
Shares of Under Armour tumbled as much as 6.1 percent to $35.42 in New York, the biggest intraday decline in almost a month. Nike fell 4.2 percent to $52.92, that stock's worst performance since March 23.
Under Armour now expects revenue of $4.93 billion this year, down from an earlier forecast of about $5 billion, according to a statement on Tuesday. Operating income will amount to about $440 million to $445 million, compared with an earlier projection for as much as $507 million. The Baltimore-based company will also take a $23 million writedown this quarter to reflect Sports Authority's demise.
Liquidation Plan
When Sports Authority filed for bankruptcy in March, it originally planned to re-emerge from Chapter 11 after closing some stores and cutting costs. But liquidators won an auction for the company's assets earlier this month, sealing the retail chain's fate.
"While the Sports Authority's bankruptcy impacts our 2016 outlook, our brand's momentum is stronger than ever as we continue to see growth and increased demand across all categories and geographies," Under Armour Chief Executive Officer Kevin Plank said in Tuesday's statement.
Under Armour was already down 9.4 percent this year through Tuesday's close.
Camilo Lyon, an analyst at Canaccord Genuity, expects the company to recover from the setback, noting that Under Armour's 2018 revenue targets are "firmly in place."
"We view this as a transition period," he said in a report. "Our positive long-term outlook remains intact."
Before it's here, it's on the Bloomberg Terminal.
LEARN MORE