technology
SoftBank Will Sell at Least $7.9 Billion of Alibaba Stake
By and
Japanese company is seeking to boost cash, pay down debt

Bulk of divestment going into a trust for institutional buyers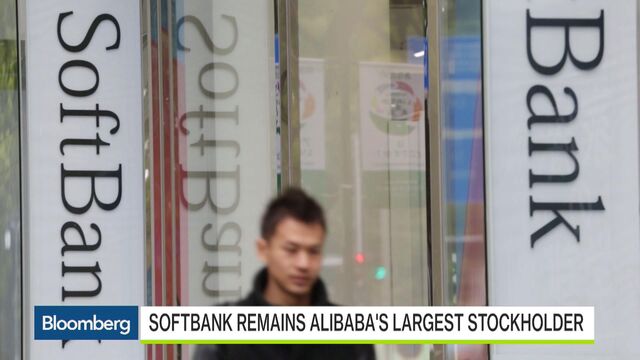 SoftBank Group Corp., the largest investor in Alibaba Group Holding Ltd., said it will sell at least $7.9 billion of its stake in the Chinese e-commerce giant to bolster its cash position and pay down debt.
SoftBank has established a new trust with the intention of divesting $5 billion in Alibaba's American depositary receipts in a private placement "to qualified institutional buyers," the Japanese company said in a statement Tuesday. SoftBank will also sell $2 billion in shares back to Alibaba, $400 million to members of the Alibaba Partnership of senior executives and $500 million to a major sovereign wealth fund.
SoftBank is selling Alibaba shares for the first time in 16 years as it looks to strengthen its balance sheet and step up investments in promising startups. Investors have discounted the value of SoftBank's holdings due to challenges at money-losing Sprint Corp. and its debt load of 11.9 trillion yen ($107.5 billion).
"SoftBank gets to strengthen its financial standing while still maintaining the relationship with Alibaba as an equity method affiliate," said Tomoaki Kawasaki, an analyst at Iwai Cosmo Securities Co. "The concerns over ongoing restructuring at Sprint" are the reason why SoftBank's share reaction is modest, he said.
SoftBank rose 0.4 percent to 6,252 yen in Tokyo. Alibaba's U.S.-listed stock declined 6.5 percent to $76.69. Trading volume of more than 62 million shares was 4.8 times the daily average of the past three months.

The transactions will reduce SoftBank's holding in Alibaba to about 28 percent from just more than 32 percent. The company is also considering a sale of its stake in Finnish gaming company Supercell Oy, which could raise more than $5 billion. The moves are part of a broader effort by the Japanese technology giant to reduce its leverage. SoftBank's total debt rose at the end of March after the company sold more than $8 billion in corporate bonds last fiscal year. That included $1 billion in dollar bonds paying a coupon of 6 percent.
The company also announced in February it will spend as much as 500 billion yen buying back more than 14 percent of its stock.
"This investment has been phenomenally successful and, over the past 16 years, we have built a close relationship, working together on many exciting projects," SoftBank Chairman and Chief Executive Officer Masayoshi Son said in the statement. "In that time, we have not sold any Alibaba shares. There are huge opportunities ahead for Alibaba and SBG looks forward to the continued partnership."
The trust established by SoftBank is structured in a manner to let the company get cash for its Alibaba shares now while still maintaining an interest in the stock. In exchange, SoftBank will make quarterly payments to buyers. How much stock is exchanged will depend on Alibaba's share price when the shares convert in three years. The trust also will grant initial purchasers an option to buy as much as $1 billion more, SoftBank said.
The deal shouldn't change how Alibaba shareholders view the stock because SoftBank still maintains a significant ownership stake and Alibaba is making a large repurchase, suggesting the company thinks its stock is undervalued, said RJ Hottovy, an analyst at Morningstar Inc. in Chicago.
"SoftBank had previously announced its de-leveraging strategies, so it's not surprising for them to monetize a small percentage of their ownership stake in Alibaba," Hottovy said.
The transaction will reduce SoftBank's ratio of net debt to earnings before interest, taxes, depreciation and amortization to 3.3 times, from 3.8 at the end of March. A lower number means that a company is better positioned to pay down its debt. SoftBank's net debt to EBITDA ratio was below 2 three years ago.
"As SoftBank looks to strengthen its own balance sheet, Alibaba determined that it was the best use of our capital to re-invest in our own business through an efficient buyback of a large number of shares in our own company that is accretive to our stockholders," Jack Ma, Alibaba's chairman, said in a separate statement.
U.S. web portal Yahoo! Inc. has about a 15 percent stake in Alibaba -- part of the remaining holdings it first acquired in 2005 for about $1 billion. Yahoo has been seeking a tax-efficient way to separate from the stock. Most recently it has sought to sell its core web assets in a strategic review.
— With assistance by Alistair Barr, Finbarr Flynn, and Brian Womack
(
Updates with closing proces in in fifth paragraph.
)
Before it's here, it's on the Bloomberg Terminal.
LEARN MORE