Saudi Arabia Said to Weigh Bond Sale of Up to $15 Billion
by , , and
Qatar's $9 billion bond said to boost Saudi appetite for sale

Talks on bond sale said to be in early stages with no decision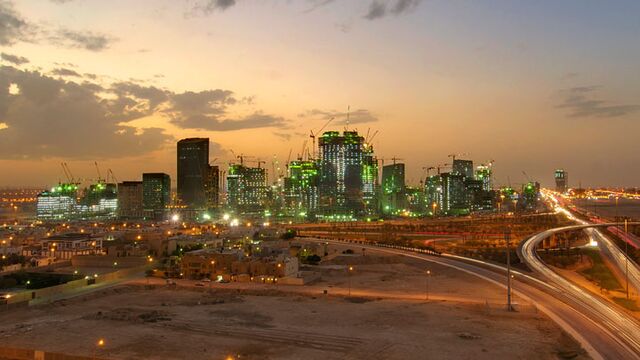 Saudi Arabia is considering selling as much as $15 billion of bonds this year in what would be the country's first foray into international capital markets, people with knowledge of a matter said.
QuickTake Why Saudi Arabia Needs to Borrow
Encouraged by Qatar's record issue last week, Saudi Arabia is weighing a sale of at least $10 billion in five-, 10- and 30-year bonds after Ramadan ends in July, the people said. No final decision has been made and the discussions are still at a preliminary stage, the people said, asking not to be identified as the talks are private.

Governments in the six-nation Gulf Cooperation Council, which includes the two-biggest Arab economies of Saudi Arabia and the United Arab Emirates, are turning to public markets after the plunge in oil prices punched holes in their budgets. Qatar last week attracted $23 billion in orders for its $9 billion sale, the biggest-ever from the Middle East. Abu Dhabi raised $5 billion from the sale of five- and 10-year securities in April, while Dubai is also said to be preparing an international bond sale this year.
"The government has talked about raising its debt-to-GDP ratio from basically near zero levels now -- it must be 5 percent 6 percent now -- to 50 percent in the space of about five years," Fahd Iqbal, the head of research in the Middle East at Credit Suisse Group AG, said in an interview on Bloomberg TV on Wednesday. "So this really is very much the first step in a larger plan, and if they do reach the 50 percent target, which is quite tough on a five year view, that would be something to the tune of $350 billion."
Saudi Arabia's Ministry of Finance didn't immediately return calls seeking comment.
Bond sales from the Middle East and North Africa have already climbed to a record $32 billion this year, according to data compiled by Bloomberg. Oman also on Wednesday announced plans to issue bonds.
First Loan
Saudi Arabia is undergoing an economic shakeup, led by Deputy Crown Prince Mohammed bin Salman, as it prepares for the post-oil era. One of the government's biggest challenges will be navigating the worst economic slowdown since the global financial crisis. Authorities are cutting spending to plug a budget deficit that reached about 15 percent of gross domestic product in 2015.
The kingdom's credit rating was reduced to A1 from Aa3 last month in the second cut this year by Moody's Investors Service. The kingdom's rating was also lowered by Fitch Ratings and S&P Global Ratings earlier in 2016.
The country has been financing its budget deficit by selling local debt and drawing down foreign reserves. The central bank's net foreign assets have tumbled by more than 500 billion riyals ($133 billion) since the start of 2015 to 2.15 trillion riyals in April.
In April, the kingdom sealed its first loan in at least 15 years as it seeks to cover a shortfall estimated at about $100 billion this year. Saudi Arabia secured a $10 billion facility, people said at the time.
Saudi Arabia has also hired HSBC Holdings Plc banker Fahad Al Saif to start a debt management office, other people said this week. Al Saif joined the Ministry of Finance on an open-ended secondment from HSBC's Saudi British Bank, the people said.
HSBC, JPMorgan Chase & Co., Citigroup Inc., Goldman Sachs Group, Morgan Stanley, Deutsche Bank AG and Bank of Tokyo-Mitsubishi UFJ Ltd. are expected to pitch for a role in organizing the bond, the Financial Times reported, without saying where it got the information.
Before it's here, it's on the Bloomberg Terminal.
LEARN MORE