technology
Preacher Donning a Zimbabwe Flag on YouTube Takes on Mugabe
Bloomberg News
Mawarire lights up social media with anti-government campaign

Claims that Mawarira is sensation are false, government says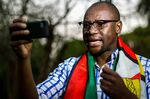 Baptist pastor Evan Mawarire says he was in his office worrying about how to pay his children's school tuition one day last month when he decided to drape a Zimbabwean flag over his shoulders and record a video to lament on the state of his nation.
The video posted on YouTube touched a nerve among citizens of the southern African country, with more than 32,000 views. Within days of starting a Facebook page on which he posts videos urging Zimbabweans to peacefully confront the authorities and circulate pictures of themselves holding the nation's flag, Mawarire, 39, reached the platform's 5,000-friend limit. His Twitter hash tag #ThisFlag has been referenced thousands of times.
"We're tired of the ruling party, of corruption in the corporate sector," Mawarire, who dubs his campaign "zvakwana,'' or "enough" in the local Shona language, said by phone. "The government needs to know it's just a matter of time. We're non-violent, we're not inciting, but it's just a matter of time."
Zimbabwe under President Robert Mugabe, 92, has lurched from crisis to crisis since state-backed militants began seizing white-owned farms in 2000, crippling agricultural output and exports. The economy has halved in size over the past 15 years, an estimated 3 million people have gone into exile and about 90 percent of the workforce is unemployed. Western governments accuse Mugabe of stealing a succession of elections and using violence to stifle dissent.
Speaking Out
"It has been many years since Zimbabweans, particularly those living within the country, have felt courageous enough to speak out publicly about issues such as corruption, unemployment, the tragic economic decline, misgovernance and broken promises by the ruling elite," Irene Petras, the executive director of Zimbabwe Lawyers for Human Rights, said by phone. Mawarire "has emboldened Zimbabweans to reclaim their voice and their citizenship using alternative media platforms in a situation where traditional media is subject to tight control and alternative views are often censored."
Mugabe's government has dismissed the significance of his campaign.
"It's a lie that it's an internet sensation," Education Minister Jonathan Moyo said by phone.
State Symbols
The ruling Zimbabwe African National Union-Patriotic Front and the security agencies have been caught off guard by the campaign and are underestimating the impact it's having, according to Mfundo Mlilo, a spokesman for the nonprofit group Crisis in Zimbabwe Coalition.
"I'd argue this is a significant development, one we haven't seen before," he said. "It's defying the conventional wisdom. It challenges the state using the state's tools, or more directly, its symbols."
Almost half of Zimbabwe's 13 million people use the internet, according to the Central Intelligence Agency's World Factbook.
Flag Sales
James Mapeta, who sells Zimbabwean flags at an intersection in the Alexandra Park suburb in the capital, Harare, said his business was booming despite severe cash shortages in the country.
"Many people pay me with mobile money," he said. "They're very popular. Zimbabwe is rotting and everyone has had enough -- I mean everyone."
Mawarire's supporters fear that he may be silenced in a similar manner to Itai Dzamara, an anti-government activist whose disappearance more than a year ago remains unexplained.
"We're not scared anymore," said Mawarire, who preaches at His Generation Church in Harare. "It's our government, so we're going to challenge the government, we're going to ask them what they're doing."
— With assistance by Brian Latham
(
Updates with comments from salesman in first paragraph after Flag Sales subheadline.
)
Before it's here, it's on the Bloomberg Terminal.
LEARN MORE