Pakistan PM Sharif's Heart Surgery Successful, Daughter Says
by and
Sharif to be transfered to intensive care unit in London

Pakistan leader underwent surgery after previous complications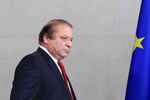 Pakistan Prime Minister Nawaz Sharif's open heart surgery operation in London on Tuesday was successful, according to his daughter Maryam.
Sharif "is off the pump now" after the surgery started at 8 a.m. London time and will be shifted to an intensive care unit in the next hour "or so," she said on Twitter at 12:20 p.m.
Sharif, the 66-year-old three-time prime minister who helped Pakistan become the only Muslim-majority country with a nuclear weapon, underwent surgery after a previous procedure in 2011 had led to complications. Sharif's party won a majority in the lower house of parliament in 2013, the first democratic transition of power in Pakistan's history.
Sharif has faced calls to resign in recent weeks after leaked files from a Panama law firm showed his children used offshore companies to make investments. The uproar was emblematic of persistent challenges to his authority throughout his latest term that undermined his efforts to make Pakistan's economy more market friendly.
Before it's here, it's on the Bloomberg Terminal.
LEARN MORE