Barclays Director Accused of Trading Tips for New Bathroom
by
Steven McClatchey charged with insider trading in New York

McClatchey allegedly told plumber friend about future mergers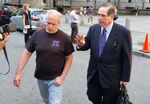 A former Barclays Plc director was accused by the U.S. of giving tips about future mergers and acquisitions to a plumber friend in exchange for cash and a new bathroom, an arrangement that went down the drain when the plumber snitched to the government.
Steven McClatchey, 58, passed the information to the plumber who used the tips to make 11 illegal trades from March 2014 to August 2015, according to a criminal complaint that was unsealed Tuesday in Manhattan federal court. McClatchey, who was arrested this morning by FBI agents, faces conspiracy, wire fraud and securities fraud charges. The Securities and Exchange Commission identified the plumber as Gary Pusey, 47, in a related civil suit filed Tuesday against both men.
McClatchey and Pusey met in 2011 or 2012 at the Yachtsmen's Cove marina in Freeport, New York, where they had identical-model fishing boats that they kept in adjacent slips, according to the SEC. McClatchey and Pusey became close friends, spending most Saturdays at the marina or, in cold weather, playing pool and watching sports in McClatchey's renovated garage. McClatchey frequently told the plumber to "keep an eye on" particular companies that would soon have good news, warning him not to tell anyone, not even family, about the tips, the government said.
Pusey used the tips to make $76,000 trading stocks including Questcor Pharmaceuticals Inc., PetSmart Inc., Emulex Corp. and Omnicare Inc., according to the government. The plumber paid his friend back with thousands of dollars in cash, placed in the gym bag McClatchey brought to the marina or handed over in McClatchey's garage, prosecutors said. Pusey also renovated McClatchey's bathroom for free, according to the SEC.
Cooperating With Prosecutors
Pusey pleaded guilty to conspiracy and fraud charges on May 27. He's cooperating with prosecutors, hoping to get leniency at sentencing, according to the government. McClatchey was arrested at 6 a.m. Tuesday and released without bail by a U.S. Magistrate Judge later in the day.
McClatchey's lawyer, Steven Kartagener, declined to comment on the charges outside court. Richard Guay, Pusey's lawyer, didn't immediately respond to a phone message seeking comment on the case.
McClatchey worked in Barclays' investment-banking division and reported directly to the company's global head of mergers and acquisitions, according to the SEC. He was responsible for putting together a weekly PowerPoint presentation to keep executives abreast of potential mergers involving bank clients.
Barclays said in a statement that it cooperated with the government's investigation.
"We have rigorous and extensive conduct and compliance training at Barclays, which we underpin with a steadfast commitment to acting with integrity and respect," the bank said.
The case is U.S. v. McClatchey, 16-mag-03433, U.S. District Court, Southern District of New York (Manhattan).
Before it's here, it's on the Bloomberg Terminal.
LEARN MORE