Netanyahu Lauds Saudi Peace Plan Amid Row Over Defense Chief
by
Israeli leader invokes peace initiative ahead of Paris summit

New defense minister says he could accept two-state solution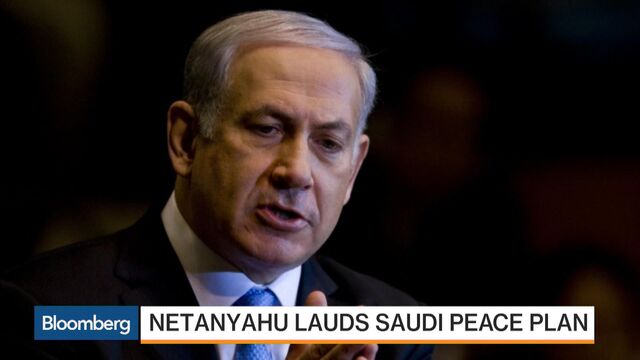 Days before a Middle East peace summit in Paris, Prime Minister Benjamin Netanyahu offered rare praise for a 14-year-old plan formulated by Saudi Arabia that would require Israel's withdrawal from most of the West Bank and other territory it captured almost half a century ago.
While asserting that it needs significant revisions, Netanyahu invoked the proposal after parliament approved his choice of Avigdor Liberman as defense minister on Monday, a move that has sparked concern abroad. Liberman has rattled Israel's allies by suggesting that leaders of the Palestinian group Hamas should be assassinated and demanding that Israel's Arab citizens take loyalty oaths.
Some suggested Netanyahu's newfound interest in the Saudi plan was meant to deflect reservations about the Liberman appointment and blunt potential pressure on Israel at the Paris conference. Israel and the Palestinians haven't been invited to the meeting initiated by France, but international leaders due to attend have criticized Netanyahu's policies toward the Palestinians and their leader, Mahmoud Abbas.
"It wards off a lot of the criticism," Mark Heller, a research associate at the Institute for National Security Studies in Tel Aviv, said in a phone interview Tuesday. Raising the Saudi plan by name "could cultivate some goodwill, give him a break in France and maybe get people to say to Abbas, 'come on, go and talk to'" Netanyahu.
Comprehensive Plan
The Saudi plan calls for "normalizing" relations between Israel, the Palestinians and 56 Arab and Muslim countries in exchange for Israel's full withdrawal from the West Bank, Gaza Strip, east Jerusalem and the Golan Heights, territories it has held since 1967 during the Middle East war. Israel rejects that demand and opposes the proposal's ambiguous treatment of the Palestinian demand for a "right of return" for millions of refugees and their descendants to what is now Israel.
Netanyahu told reporters the proposal "includes positive elements" but said Israel wants to negotiate revisions "so that it reflects the dramatic changes in the region since 2002." Both he and Liberman made a point of praising Egyptian President Abdel-Fattah El-Sisi for offering to help broker an Israeli-Palestinian accord in a speech two weeks ago.
"There are reasons to be cynical, but if Netanyahu and Liberman are looking to move away from the status quo, then this could help put off international efforts to impose a solution," Gerald Steinberg, a Bar-Ilan University political scientist, said by phone.
The Israel leader's message was welcomed by United Nations envoy Nickolay Mladenov, special coordinator for the Middle East peace process. "This opportunity should not be missed and must be followed up with concrete action," Mladenov said in a statement posted on his office's website.
Liberman's appointment capped two weeks of political upheaval triggered by Netanyahu's surprise choice of him as a coalition partner over the more moderate opposition chief Isaac Herzog, with whom he had been negotiating. Despite his hardline reputation, allies describe Liberman as a pragmatic politician, and he's said he would leave his home in a West Bank settlement for a dependable peace agreement.
On Friday, the French government will gather foreign ministers in Paris in a bid to lay the groundwork for an international Middle East peace conference later this year. Among the participants scheduled to attend are U.S. Secretary of State John Kerry and Russian Foreign Minister Sergey Lavrov.

Palestinians Skeptical
Palestinian officials described Netanyahu's backing of the Saudi plan as a ruse to neutralize international peace efforts. 
"It's a public relations campaign that Netanyahu is leading to prettify his right-wing coalition after he chose Liberman as defense minister," the Palestinian Ministry of Foreign Affairs said in a statement Tuesday.
Netanyahu has called repeatedly for direct talks with Abbas, fearing Palestinian moves to "internationalize" the process are a way to exert greater pressure on Israel. Abbas has rejected the idea of renewing direct talks, frozen since 2014, without a halt to Israeli construction in the West Bank and other measures the prime minister opposes
Before it's here, it's on the Bloomberg Terminal.
LEARN MORE