Merkel Minister Says 'All or Nothing' Russia Sanctions Failed
by and
Foreign minister urges offer to Putin for conditional easing

Former Merkel challenger Steinmeier revives coalition split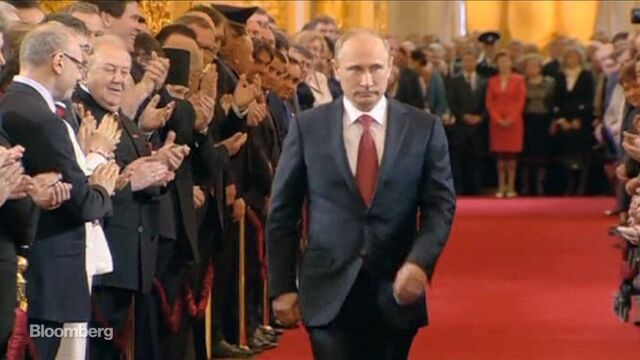 German Foreign Minister Frank-Walter Steinmeier advocated a possible easing of European Union economic sanctions against Russia even before a peace plan for eastern Ukraine is fully implemented.
The "all or nothing" approach of getting Russia to fulfill its part of last year's European Union-brokered Minsk agreement between Russia and Ukraine has failed to yield the desired results, Steinmeier told foreign reporters in Berlin on Tuesday.
"If there's substantial progress with the Minsk agreement, which at this moment we don't have, we can consider withdrawing the sanctions step-by-step," Steinmeier said. Sanctions aren't an end in themselves but "should lead to a political solution."
Steinmeier is pushing the stance of Germany's Social Democrats, the junior partners in Merkel's coalition, who have favored a more accommodating approach to Russia. German Chancellor Angela Merkel and fellow Group of Seven leaders at their annual summit last week linked "the duration of sanctions" to Russia's "complete implementation" of the Minsk accord.
Violations of a cease-fire accord and lack of progress on a "special status" for parts of eastern Ukraine are key obstacles, Steinmeier said. Germany and France, which are leading European diplomacy to bridge the Ukraine conflict, are preparing a push for an agreement on the legal basis for local elections in eastern Ukraine, he said.
In a speech late Monday to a German-Russian conference near Berlin, Steinmeier accused both sides in the Ukraine conflict of "obstruction and delays" and said Europe needs Russia to ensure "durable security" on the continent.
"We need to return to a common European security architecture and that requires a solution to the Ukraine conflict," he said. "And we need both sides to contribute to that solution."
Trade and investment sanctions are set to lapse on July 31 and require a unanimous EU vote to be extended. The EU and U.S. restricted Russia's access to international capital markets and energy technology after the Kremlin annexed Crimea from Ukraine and backed a pro-Russian insurrection in eastern Ukraine. Along with the oil-price collapse, the sanctions helped trigger Russia's longest recession in two decades.
Before it's here, it's on the Bloomberg Terminal.
LEARN MORE