India Growth Surges More Than Estimated Before Rate Decision
By
GDP +7.9% January-March versus +7.5% survey estimate

Data cement India's position as fastest-growing big economy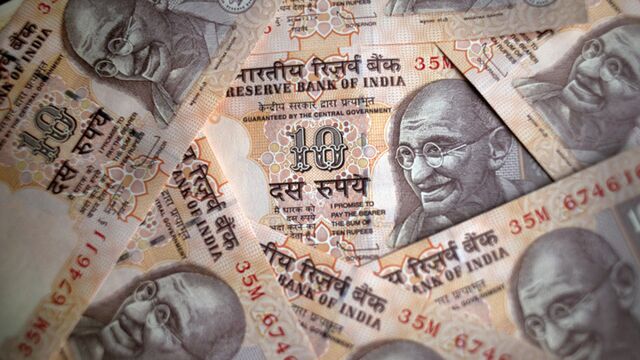 India's world-beating economic growth accelerated more than estimated at the start of 2016, easing pressure on central bank Governor Raghuram Rajan to lower borrowing costs when he reviews policy next week.
Gross domestic product grew 7.9 percent in January-March from a year earlier, the Statistics Ministry said in a statement in New Delhi on Tuesday. That was faster than the 7.5 percent median estimate in a Bloomberg survey of 28 economists and 7.2 percent in the previous quarter.
For the financial year through March, the economy expanded 7.6 percent in line with official forecasts -- up from 7.2 percent in the previous 12 months.
"We don't expect any cuts in the policy rate, nor do the markets," said Shailesh Kejariwal, an economist at B&K Securities India Pvt. "These numbers should not impact decision-making."
The figures cement India's position as a bright spot among major emerging markets as China slows while Russia and Brazil see contractions. Prime Minister Narendra Modi this year is looking to spend more on rural areas to boost his ruling party's prospects in key state elections and revive a flagging farm sector that employs bulk of the population.
No Slowdown
Still, not all is well. Stressed assets at banks are at a 15-year high, capacity utilization is low and private investment is weak. Inflation that quickened to 5.4 percent in April -- above the central bank's 5 percent target for March 2017 -- also complicates matters for policy makers. Rajan, who reduced the benchmark interest rate to a five-year low in April, is due to review monetary policy again on June 7.
Gross value added, a key GDP input that the central bank watches closely, rose 7.4 percent in January-March, as estimated in the survey.
Agriculture GVA grew 2.3 percent in January-March from a year earlier, after contracting 1 percent the previous quarter; manufacturing GVA slowed to 9.3 percent from 11.5 percent
For the year through March, private consumption rose 7.4 percent versus 6.2 percent the previous 12 months; the increase in government consumption slowed to 2.2 percent from 12.8 percent; the creation of productive assets slowed to 3.9 from 4.9 percent
In an interview in Tokyo on Monday, Finance Minister Arun Jaitley said he saw no economic slowdown in sight for India. Increased public spending, higher foreign investment and strengthening urban demand would drive economic activity, he said.