Icahn Takes 'Large Position' in Allergan
by
Allergan says doesn't believe investor to take activist role

Size of stake not disclosed; Allergan shares gain in New York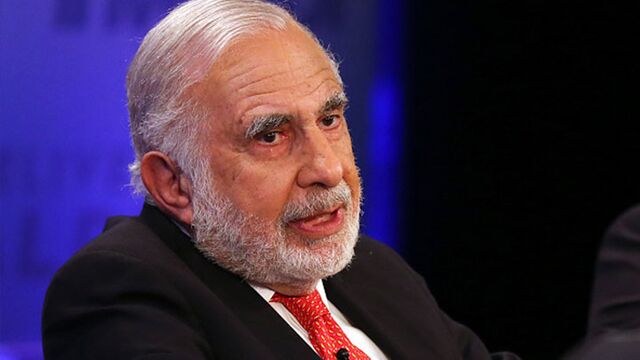 Billionaire investor Carl Icahn said he has taken a "large position" in Allergan Plc, backing Chief Executive Officer Brent Saunders in what the drugmaker said it doesn't believe will be an activist role.
In 2013, Icahn helped place Saunders in the top spot at Forest Laboratories -- which less than a year later was bought by what's now Allergan. Icahn said he's "very supportive" of Saunders, who eventually joined Allergan and helped orchestrate a planned $160 billion acquisition by Pfizer Inc. That deal fell apart after the U.S. government proposed tax rules that would have decreased the benefit of the acquisition.
"We have recently acquired a large position in Allergan and are very supportive of CEO Brent Saunders," Icahn said in a statement Tuesday. A representative for Icahn wasn't immediately available to comment on the size of the investment. The activist investor often takes stakes in companies to agitate for changes in strategy or management.
In announcing the Allergan position, he made clear he backs Saunders's leadership.
"We have every confidence in Brent's ability to enhance value for all Allergan shareholders," he said. He did not express interest in pushing for any sort of change at Allergan -- at least not yet -- in his statement.
Allergan Crossroads
After the collapse of the Pfizer deal, Allergan is at a crossroads. The drugmaker is in the process of selling its generics business to Teva Pharmaceutical Industries Ltd. for about $40 billion, a deal that, last week, Saunders reiterated should close within the first half of this year. With the cash from that transaction, Allergan will pay down some debt, buy back shares, and gain the ability to do more mergers. 
Saunders has more recently backed away from the idea of doing the type of large-scale deals he's been famous for, saying in recent weeks that he is "very comfortable" with Allergan's organic growth potential. While he's open-minded to transformational deals, doing tuck-in deals to bolster existing product lines are more of a priority.
Allergan shares rose less than 1 percent to $237.46 at 1:04 p.m. in New York. The company said it welcomed the investment.
Allergan "has no reason to believe that this investment was made for purposes of influencing the actions of management or control of the company," the company said.
Apple Stake
While Icahn has expressed his support for Allergan's management, he's done the same at other companies and then agitated for change nonetheless. After disclosing an Apple Inc. stake in August 2013, Icahn said he "could not be more supportive of you, the existing management team, the culture at Apple and the innovative spirit it engenders" in a letter to Chief Executive Officer Tim Cook. 
Icahn then pushed Cook to return more of the company's ballooning cash pile to investors. The iPhone maker stepped up its share buybacks and increased dividends, helping to fuel a 38 percent share rally in 2014. That petered out in 2015, when Apple shares declined 4.6 percent. He said in April that he exited the position.
Icahn has been a frequent investor in the drug industry. At Forest, he fought for five years with CEO Howard Solomon, who had run the company for more than three decades and had planned to possibly hand over control to his son. Icahn managed to get a foothold on the board, eventually triumphing over Solomon to name Saunders to lead the drugmaker. Less than a year later, Forest had a $25 billion deal with Allergan, then called Actavis.
Icahn has also invested in Biogen Inc., at the time known as Biogen Idec, along with Amylin Pharmaceuticals Inc. and others.
Before it's here, it's on the Bloomberg Terminal.
LEARN MORE