Five Things You Need to Know to Start Your Day
Get caught up on what's moving markets.
by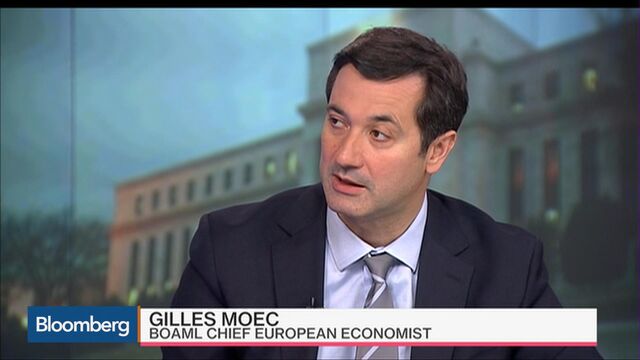 Want to receive this post in your inbox every morning? Sign up here
It's a huge week for data, the euro-area remains in deflation, and Chinese markets make some big moves. Here are some of the things people in markets are talking about today.
Huge week for economic data
This may be a shortened week for some, but what it lacks in working days, it makes up for in economic data. In the U.S. we have personal income and spending at 8:30 a.m. ET today, auto sales numbers for May are due tomorrow, and the daddy of data releases comes out on Friday, when nonfarm payrolls numbers for May are published. It's not just domestic economic developments that matter. Chinese PMI data due at 9:00 p.m. ET tonight will give some guidance on how that economy is performing, and Thursday sees the European Central Bank announce its latest monetary policy decision. While there is no expectation of a rate change at the meeting, the press conference will, as always, be worth watching. If all that is not enough to whet your appetite after the long weekend, there is also an OPEC meeting on Thursday. By the end of this week, markets may be closer to having an answer on the timing of the next Fed rate hike.
Euro-area inflation, unemployment
The data-week has already kicked off in Europe, with the flash inflation estimate for May showing that consumer price-growth in the currency zone remains negative. A separate report showed that unemployment was stable at 10.2 percent, while in Germany the proportion of those out of work fell more than expected to a record post-reunification low of 6.1 percent. Confidence in the euro-area increased to a four-month high according to an index of executive and consumer sentiment released by the European Commission yesterday. 
China stocks
A report from Goldman Sachs Group Inc. saying that MSCI Inc. will likely include Chinese shares in its global benchmark indexes, helped boost stocks, with the Shanghai Composite Index closing 3.3 percent higher, its biggest increase in almost three months. The rally in shares is not the biggest story out of Chinese equities overnight though, as there were some strange goings-on in the futures market. Futures plunged 10 percent before snapping back all in less than one mysterious minute of trading. Despite the overnight rally, Chinese equities are back in the sights of short sellers as the weakening of the yuan, which fell by the most in May since August's devaluation, puts pressure on stocks and bonds.
Markets update
The MSCI Asia Pacific Index added 0.7 percent overnight, with Japan's Topix index rising 1 percent amid optimism that the government will delay the planned sales-tax hike. In Europe the Stoxx 600 Index was 0.2 percent lower at 6:03 a.m. ET, with auto-related shares leading the losses following Volkswagen AG's report of a 86 percent slide in quarterly profit. S&P 500 futures were flat. 
A naira confusion
A year after taking over as President of Nigeria, Muhammadu Buhari is facing an economy that is struggling. Hit by the collapse in oil prices and rebel activity in the Niger River delta, the country will soon enter recession. Against this, the central bank promised last week to allow 'increased flexibility' in the naira's currency peg — a peg that was a central pillar of Buhari's economic policy. Over the weekend the president — who once likened letting the currency weaken to "murder" — caused confusion when he emphasized the need for stability in the naira. He backed down a little from this position yesterday, but remains opposed to devaluation, according to his spokesman. 
What we've been reading 
This is what's caught our eye over the long weekend.
Before it's here, it's on the Bloomberg Terminal.
LEARN MORE