Goldman Sees 70% Chance of China Shares Joining MSCI in June
By
Moves on trading halts, beneficial ownership boost probability

Start of Shenzhen-HK link would raise odds, economists say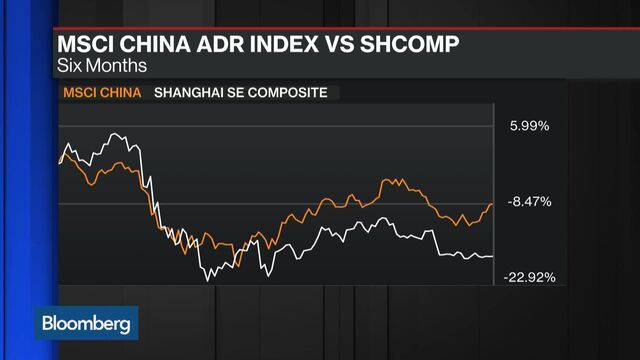 The odds of Chinese stocks winning inclusion to MSCI Inc.'s global indexes in June have shot up to 70 percent with the government's efforts to curb trading halts and clarify beneficial ownership rules, according to Goldman Sachs Group Inc.
These steps have addressed two of the five issues flagged by MSCI in April regarding the inclusion of A-shares, Goldman economists led by Kinger Lau wrote in a note on Tuesday. They added that China will now need to deal with the remaining concerns of a 20 percent monthly fund repatriation limit, anti-competitive clauses on index products and daily quota limits on a cross border stock program. Goldman, which had in April put the probability of inclusion at 50 percent, also flagged the importance of China starting an equity link between Hong Kong and Shenzhen.
"These moves are clearly positive," the Goldman economists wrote. "Additionally, we believe the conditional probability for a Yes in June would be materially higher if the Shenzhen-HK Connect were to be announced."
China's stocks jumped the most in almost three months amid the inclusion speculation, with the Shanghai Composite Index closing 3.3 percent higher. Gauges of telecom and technology companies led gains for industry groups.
$5.6 Trillion Market
With an estimated $16 billion of investment flows at stake, Chinese regulators are pushing for the nation's $5.6 trillion stock market to be included in MSCI's global benchmarks. In February, the nation's foreign-exchange regulator issued rules making it easier for overseas investors to shift money out of the country and apply for investment quotas.
The index compiler said in March a decision to include 5 percent of yuan-denominated shares in its index will depend on regulators implementing changes so that widespread halts can't happen again. About 311 companies in the Shanghai and Shenzhen exchanges are still suspended or halted, representing about 10 percent of the market, according to data compiled by Bloomberg.
Trading Halts
The Shanghai and Shenzhen bourses last week said that suspensions will be capped at three months for major asset restructuring and one month during private placements. The exchanges will have the right to reject trading-halt applications under extreme market circumstances in order to protect investors, they added.
On May 6, the China Securities Regulatory Commission said regulators recognize and respect the rights and interests of so-called "beneficial owners of securities." The interests of foreign beneficial owners are protected by the legal contract between them and their nominee holders, it added.