Goldman's Cohn Says M&A Outlook Remains Bright After Strong '15
by
Cheap financing, low rates may drive deals this year, he says

Cohn also sees fixed-income business improving in U.S., Europe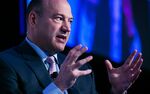 Goldman Sachs Group Inc. President Gary Cohn said the same forces that helped fuel near-record mergers and acquisitions in 2015 remain in place today and that the outlook for the business remains bright.
"We still think in this lower growth environment with very cheap financing and low rates available that we'll continue to see more of that merger activity over this part of the cycle," Cohn said Tuesday at an investor conference in New York sponsored by Deutsche Bank AG.
About $300 billion of deals were announced in the first quarter, the least since the first three months of 2014, as market volatility spooked potential buyers, according to data compiled by Bloomberg. Last year, blockbuster deals among pharmaceutical, telecommunications and technology companies helped drive about $4 trillion in mergers. Some acquisitions have been blocked this year as regulators show little tolerance for deals among direct competitors.
Cost savings "drove the M&A cycle last year," Cohn said. "Companies could merge themselves together and the rationale for the merger was to cut out expenses or duplicative costs."
Cohn, 55, also said he's optimistic about Goldman Sachs's fixed-income business as some European and U.S. competitors retrench, adding that trading revenues in those regions could rebound. The firm's first-quarter revenue from investment banking, which includes providing merger advice, declined 23 percent from a year earlier to $1.46 billion. Total trading revenue fell 37 percent to $3.44 billion, as revenue from bond trading dropped to $1.7 billion.
 
Goldman Sachs has cut the number of fixed-income employees by 10 percent since the beginning of 2012, while compensation for the business has declined more than 20 percent, Cohn said.
Before it's here, it's on the Bloomberg Terminal.
LEARN MORE