Canada Stocks Fall as Lenders Retreat to Offset Commodity Rally
by
S&P/TSX cements 4th monthly gain, longest run in two years

Scotiabank slips after posting shrinking second-quarter profit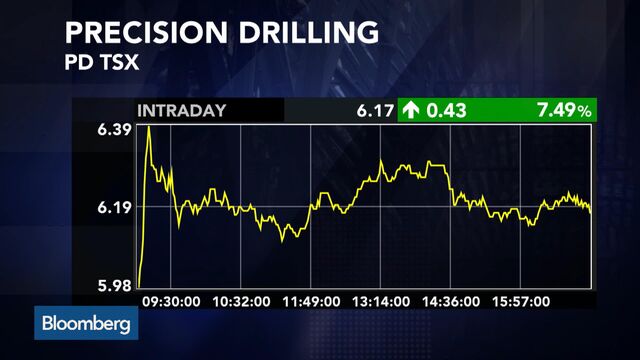 Canadian stocks sank in the final minutes of trading, trimming the longest run of monthly gains in two years, as declines by the nation's largest lenders offset gains by natural resource producers.
The S&P/TSX Composite Index fell 0.2 percent to 14,065.78 at 4 p.m. in Toronto, erasing earlier gains of as much as 0.6 percent. The index nevertheless posted a fourth month of gains, the best performance since April 2014. The index has surged 19 percent since reaching a two-year low on Jan. 20 and is up 8.1 percent this year, the second most after New Zealand among developed-market nations tracked by Bloomberg. Trading volume was 22 percent higher than the 30-day average.

The recent rally has maintained Canadian shares' more expensive valuation relative to their U.S. peers. The S&P/TSX now trades at 21.4 times earnings, about 10 percent higher than the 19.4 times valuation of the S&P 500.
Global equities slipped to halt a five-day rally, as the S&P 500 closed little changed while posting a third straight monthly gain. Federal Reserve Chair Janet Yellen's comments on May 27 pointed to a likely interest-rate increase in coming months that is dependent on economic improvement. Traders have now priced in a 24 percent chance of an interest rate increase in June, and better-than-even odds for July, according to data compiled by Bloomberg.
In Canada, Bank of Nova Scotia fell 1.3 percent for the biggest loss in four weeks after second-quarter profit fell 12 percent on higher losses from energy loans and restructuring charges as it shifts toward digital banking. Adjusted profit of C$1.48 a share topped the C$1.42 average estimate of analysts. Royal Bank of Canada, Toronto-Dominion Bank and Canadian Imperial Bank of Commerce posted better-than-expected results last week.
A report today showed Canada's economy rose at a slower-than-forecast 2.4 percent annualized pace in the first quarter, short of economists' estimates for 2.8 percent growth.
Canadian Natural Resources Ltd. and Encana Corp. climbed at least 1.1 percent to lead energy producers higher. Six of 10 industries in the S&P/TSX retreated. Crude futures slipped in New York, while capping a fourth monthly advance. OPEC producers are set to meet Thursday in Vienna to discuss production policy, while output remains disrupted in Nigeria and Canada.
Barrick Gold Corp. and Goldcorp Inc. rose more than 1.7 percent as raw-materials producers climbed as a group to halt a three-day slide. Gold in the spot market rose, snapping its longest selloff in more than a year.
Sherritt International Corp. rose 4.2 percent for the biggest increase in two weeks, after the nickel producer said it reached an agreement with some of its bond holders to extend maturities on the notes as part of a restructuring.
Commodities producers, which make up about a third of the S&P/TSX by market capitalization, have fueled the rally in Canadian stocks this year amid a rebound in prices from crude to copper and gold. Raw-materials producers have jumped 34 percent in 2016.
Before it's here, it's on the Bloomberg Terminal.
LEARN MORE