Photographer: Brendon Thorne/Bloomberg
Scientist Turned Hedge Fund Founder Cuts Profitable Aussie Short
By
AE Capital gained about 6% in first four months of 2016

Fund sees U.S. rates to be strong driver in next 6-12 months
AE Capital, a hedge fund run by a former atmospheric scientist, trimmed bets against the Australian dollar as it gauges shifts in the world's two biggest economies.
The Australian, Canadian and New Zealand dollars will likely be the most sensitive to changes in the outlook for U.S. interest rates and for the economy in China, the biggest consumer of raw materials, said its Melbourne-based Chief Investment Officer Lyle Pakula. The three are among the four worst performers in the Group-of-10 currencies this month as traders boosted bets the Federal Reserve will raise rates as early as June. Pakula says they could rally if the U.S. central bank delays or should commodity prices resume gains.
AE Capital made about 6 percent in the first four months of the year, according to the manager, outperforming the average 0.4 percent return of other hedge funds tracked by data provider Eurekahedge Pte. The fund, which uses computer algorithms to trade in financial markets, had bet on a decline in the Aussie against the greenback in late April, before cutting its position on May 20, Pakula said. The currency had dropped below 72 U.S. cents, from a 10-month high of 78.35 reached lat month, after the Reserve Bank of Australia reduced its benchmark rate to a record low in May.
"I don't think you're going to see another 6-to-7 cent drop in the Aussie in the short term," Pakula, 37, said in an interview in Singapore. "You'd need some massively positive U.S. data and very negative Australian data to really push through that barrier."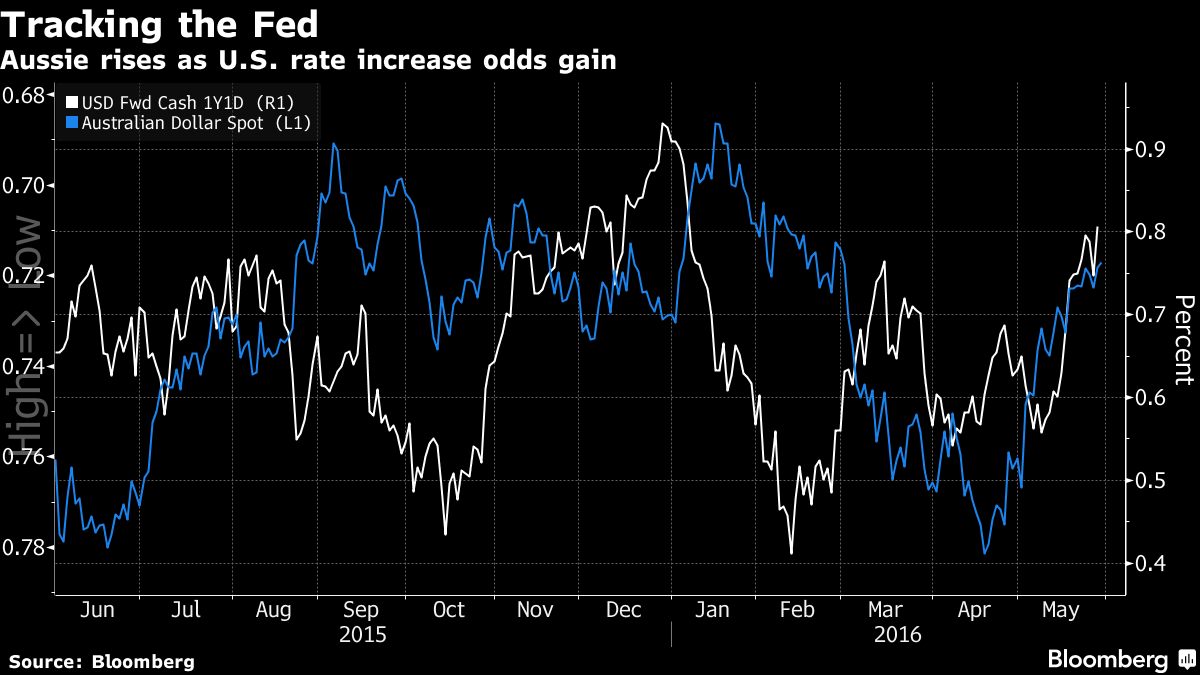 The Aussie has tumbled 4.8 percent this month to 72.36 cents as of 5:30 p.m. in Sydney Tuesday. The currency gained as much as 1 percent Tuesday following economic reports on building approvals and net exports. Analysts expect the Aussie to be little changed at 72 cents by year-end, according to the median of estimates compiled by Bloomberg.
The kiwi has slid 3.7 percent to 67.17 U.S. cents, while the Canadian dollar depreciated slightly more than that to C$1.3053 per U.S. dollar.
Pakula set up AE Capital in 2011 with Jess Morecroft, the company's chief technology officer. Their fund, which overseas about $100 million, returned 19.4 percent last year, according to its latest monthly report to investors.
AE Capital had earlier in the year profited from the Aussie's strength versus the greenback as prices of iron ore, Australia's largest export, climbed and traders pushed back forecasts for when the Fed would raise rates, Pakula said. While Australia's resource industries have benefited from policy easing in China, the Fed's prolonged period of near-zero interest rates initially strengthened currencies such as Australia's, only to weaken them in recent years as the U.S. central bank moved to tighten monetary policy.
'Strong Impact'
"If there are any developments in the Fed or China story, you'll definitely see a very strong impact on the Aussie, kiwi and Canadian dollar," Pakula said.
For a recent story on Australia's interest rate outlook, click here.
While working on his masters degree and PhD in atmospheric science from Colorado State University, Pakula, who has been fascinated by storms since he was small, would prowl the plains chasing tornadoes in the spring. After seven years in the U.S., he returned to Melbourne as an academic teaching math and atmospheric science at Monash University, where he majored in computer science, math and physics as an undergraduate. He switched careers in 2008 when he joined Sydney-based hedge fund Boronia Capital, applying his computational and forecasting skills to investing.
The manager, which also trades the euro, yen and pound, identifies major themes that drive markets based on fundamental research before deciding on its trades, which are then fully automated. While the fund holds its positions for an average of three to five days, it can sometimes hang on to them for as long as a month, Pakula said.
"What we're long is the idea that U.S. rates are going to be a strong driver over the coming six to 12 months," he said. "China's an important part of the world economy and therefore will have a strong influence for a long time to come."