Noble Group Says CEO Alireza Resigns; Plans U.S. Asset Sale
by
William Randall, Jeff Frase have been appointed as co-CEOs

Company says plans to sell Noble Americas Energy Solutions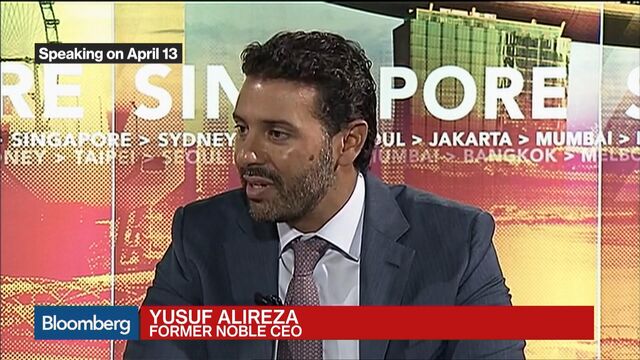 For Noble Group Ltd., 2016 is shaping up to be just as turbulent as 2015. The commodity trader said on Monday that Chief Executive Officer Yusuf Alireza resigned and the Hong Kong-based group will be seeking to sell more assets in a bid to strengthen its balance sheet.
Alireza, 45, decided "the time was right for him to move on" after shifting Noble Group toward an asset-light model, selling its Noble Agri business and arranging a refinancing, Noble Group said in a statement to the Singapore stock exchange. He'll be replaced by William Randall, Noble Group president, and Jeff Frase, president of Noble Americas, who'll become co-CEOs. Richard Elman remains as chairman.
The former Goldman Sachs Group Inc. executive, who was appointed CEO in 2012, was pivotal to efforts to keep Noble Group afloat as shares collapsed last year amid a rout in commodity prices and attacks on its accounting methods. Under Alireza's leadership, the company sold its agricultural unit to China's Cofco Corp. to raise funds and cut debt amid a downgrade of its credit-rating to junk. The company will soon be starting the sale of its Noble Americas Energy Solutions business, it said on Monday.
'It's Discouraging'
"That's quite bad," Margaret Yang, a strategist at CMC Markets in Singapore, said by phone, adding that there'd been speculation about Alireza's status in recent weeks as shares slid even as commodity prices rose. "It's discouraging in terms of the confidence to the company."
Noble Group dropped as much as 3.3 percent to 29.5 Singapore cents, matching the intraday low seen on Friday, and traded at 30 cents at 9:44 a.m. Still, the company's January 2020 notes rose 0.5 cent to 75.35 cents on the dollar, the highest level since November, according to Bloomberg-compiled prices.
"Mr. Alireza has helped guide Noble through a very challenging period, moving the company to an asset-light, merchant-focused model; he played a pivotal role in the successful sale of Noble Agri to a group of investors led by Cofco, and has also been instrumental in securing the recently announced re-financing," the company said. "With this transformation process now largely complete, Mr. Alireza considered that the time was right for him to move on."
Planned Sale
The planned sale of Noble Americas Energy Solutions, which is part of the company's gas and power unit, is in addition to the fund-raising initiative previously announced, Noble Group said on Monday. The transaction was expected to "substantially enhance the balance sheet," the company said.
Randall, 41, has been with Noble Group since 1997. He worked in the company's coal and hard-commodities operations and already has a seat on the board, according to the statement. Frase, 48, is currently based in Stamford Connecticut, and joined the company after stints at JPMorgan Chase & Co. as well as Goldman Sachs, it said.
This month, Noble Group reported a drop in quarterly profit, while saying it had completed the refinancing of its $1 billion revolving-credit facility and secured a $2 billion borrowing base for its U.S. businesses. Last year, the company reported its first annual loss in almost two decades, spurring its downgrade to junk and removal from Singapore's Straits Times Index.
In an interview with Bloomberg TV last month, Alireza said the company still faced challenges. "To sit here with confidence and say the worst is behind us is just not realistic," he said then. "Our jobs are just to come in every day and do our jobs, focus on the business and deliver results and, in the end, the market will judge us and our investors will judge us."
Before it's here, it's on the Bloomberg Terminal.
LEARN MORE