Noble Group CEO Alireza Quits as More Assets Put Up for Sale
By
Trader to sell Energy Solutions unit; described as core asset

Energy Solutions contributed 18% of operating income in 2015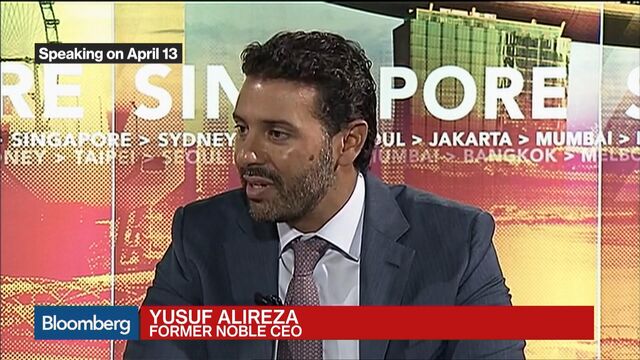 Noble Group Ltd. said Yusuf Alireza resigned as chief executive officer and announced a plan to sell a business that less than a month ago Alireza himself described as a core asset the trading company wanted to keep.
Alireza, 45, decided "the time was right" to leave after shifting the trader toward an asset-light model, selling its agriculture business and securing new financing, Noble Group said in a statement. In a second announcement, the company said William Randall, Noble Group president, and Jeff Frase, president of Noble Americas, will replace Alireza, and that the sale process for its North Americas Energy Solutions unit will start soon. The shares closed at the lowest level since January while bonds rose.
The former Goldman Sachs Group Inc. executive who was appointed CEO in 2012 has been pivotal to Noble Group's efforts to stay afloat as shares collapsed last year amid a rout in commodities and attacks on its accounting. While Alireza sold assets, including its agricultural unit to China's Cofco Corp., to raise funds and cut debt, he'd also indicated in May that Noble Americas Energy Solutions was part of the business he wanted to retain. The planned sale is in addition to fund-raising plans already announced, Noble Group said Monday.
For a profile of Noble Group founder Richard Elman, click here.
"It's discouraging in terms of the confidence to the company," Margaret Yang, a strategist at CMC Markets in Singapore, said by phone, referring to Alireza's departure, which was announced an hour before the start of trade in Singapore. There'd been speculation about Alireza's status in recent weeks as shares slid even as commodity prices rose, according to Yang.
An external spokeswoman declined to comment further on Alireza's exit. Alireza said he had no comment beyond the company's statement when contacted by mobile phone.
Noble Group dropped 8.2 percent to 28 Singapore cents, the lowest price at close since Jan. 28. The shares plunged 65 percent last year and have lost a further 30 percent in 2016. The company's January 2020 notes rose 0.85 cent to 75.71 cents on the dollar, according to Bloomberg-compiled prices. The notes, at the highest level since late November, have returned 24 percent this year.
Financing Challenges
Noble Group is seeking to bolster its finances after the company had its credit-rating cut to junk amid attacks on its accounting from critics including Iceberg Research and its first annual loss since 1998. It sold the remaining 49 percent stake in its Noble Agri Ltd. business to Cofco for $750 million in cash last year.
While it raised $3 billion in new financing earlier this month, the company said some banks had cut credit facilities by $1.5 billion in the first quarter, narrowing its free liquidity. It flagged the potential for the sale of non-core assets as well as other capital-raising initiatives that would generate more than $1 billion by year-end. In a May 12 earnings call after reporting a 62 percent slump in quarterly profit, Alireza said he considered Noble Americas Energy Solutions a core asset.
The Energy Solutions sale means that Noble Group "is sacrificing a substantial portion of its future profits," said Terence Lin, assistant director of bonds and portfolio management at Singapore-based fund researcher iFast Corp. "The business has been one of Noble Group's better-performing segments so it's not surprising that the group is now moving to monetize its U.S. energy assets."
For a Gadfly commentary piece on the Energy Solutions business, click here.
San Diego-based Energy Solutions offers supply and risk-management services to commercial and industrial customers, buying energy wholesale to sell as retail products, according to the company's annual report. Noble Group bought it from a joint venture between Royal Bank of Scotland Group Plc and Sempra Energy in 2010 for an enterprise value of $582 million and it had a net book value of $322 million as of August 2015. The sale is expected to "substantially enhance the balance sheet," Noble Group said on Monday.
The business is part of Noble Group's Gas and Power unit and contributed 18 percent of operating income of $1.18 billion in 2015. Oil liquids contributed 45 percent. When asked on the May 12 call whether planned non-core asset sales will include Noble Americas Energy Solutions and the oil-trading business, or whether those were off limits, Alireza said: "I wouldn't define those as non-core, definitely not. OK." Later, Alireza listed Noble Americas Energy Solutions as a "core business line."
Credit Rating
Noble Group's credit rating has been cut by Moody's Investors Service Inc., S&P Global Ratings and most recently Fitch Ratings on May 17. It had net debt of $1.9 billion maturing over the next 12 months, Alireza said May 12. The new financing facilities comprised a $1 billion unsecured loan and a $2 billion revolving borrowing-base facility.
With Alireza's departure, it's now down to co-CEOs Randall and Frase to work with chairman and founder Richard Elman to address future challenges.
Randall, 41, has been at Noble Group since 1997. He worked in the company's coal and hard-commodities operations and has a seat on the board, according to the statement. Frase, 48, is currently based in Stamford Connecticut, and joined the company after stints at JPMorgan Chase & Co. as well as Goldman Sachs.
"Mr. Alireza has helped guide Noble through a very challenging period, moving the company to an asset-light, merchant-focused model; he played a pivotal role in the successful sale of Noble Agri to a group of investors led by Cofco, and has also been instrumental in securing the recently announced re-financing," the company said. "With this transformation process now largely complete, Mr. Alireza considered that the time was right for him to move on."