No Slowdown for India Despite Global Uncertainty, Jaitley Says
by and
Finance minister declines to comment on extension for Rajan

Jaitley says inflation target 'extremely important for us'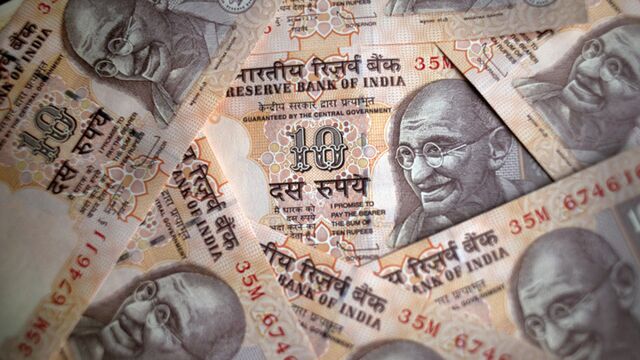 Despite "considerable" uncertainty in the global economy, India's growth is set to continue its world-beating pace, according to Finance Minister Arun Jaitley.
"I don't think we have a slowdown in sight for the reason that there is a lot of economic activity generated by increased public funding, foreign investment, and urban demand moving up," Jaitley said in an interview on Monday while visiting Japan, where he hopes to double the number of companies investing in India from "a thousand odd" currently. "So I don't think immediately, any kind of a slowdown fear is there."
As he completes two years in office, Prime Minister Narendra Modi is boosting efforts to reverse a rural slowdown that threatens to cost him state elections. While India is the world's fastest-growing major economy, investors have been frustrated by Modi's inability to push through a national sales tax and the uncertainty surrounding the future of central bank Governor Raghuram Rajan.
Jaitley in Tokyo said that the goods-and-services tax and a reduction of the corporate tax rate remain an "unfinished agenda" and should come soon. The next major priorities he identified include modernizing the nation's infrastructure, spending more on rural areas and strengthening the social security framework.
$50 Oil
India's gross domestic product expanded 7.5 percent in January to March from the same period a year ago, up from 7.3 percent in the previous quarter, according to a Bloomberg survey of 27 economists. The data will be released at 5:30 p.m. local time on Tuesday.
The government expects to meets its budget deficit target of 3.5 percent of GDP this fiscal year, Jaitley said. He added that the decline of commodity and oil prices has helped meet targets to lower inflation in India, the world's fastest-growing importer of crude.
Oil prices in "a 50 plus-minus range is fairly acceptable to us," Jaitley said. Brent for July settlement, which expires Tuesday, slid as much as 40 cents, or 0.8 percent, to $48.92 a barrel on the London-based ICE Futures Europe exchange.
Easing price pressures have allowed Rajan to reduce the benchmark interest rate to a five-year low of 6.5 percent. He's also working with the government to clean up as much as $120 billion of stressed assets at commercial banks, extend financial services to India's remote villages and rid the system of perverse incentives that encourage companies to default on payments.
Rajan Support
Rajan's future has been an increasing concern among the investment community. The topic came up repeatedly at an investor conference in Singapore last week, with the conclusion that "investors unequivocally wanted Governor Rajan to continue and hoped to see this uncertainty resolved as soon as possible," Deutsche Bank AG said in a May 27 note.
Jaitley declined to comment on whether Rajan's term would be extended, saying the government would decide at the appropriate time. The finance minister again denounced attacks on Rajan, repeating previous comments that the debate should be about the issues, and not people.
Jaitley defended an inflation target established last year in conjunction with Rajan, calling it "extremely important for us." A new monetary policy committee would "hopefully" start working by year's end, he said.
When asked about the rupee's value, the minister said: "We have to maintain a balance between a reasonable strong rupee and a realistic rupee in which we can continue in the current export environment." The currency is the worst performer in Asia this year, having lost 1.6 percent against the dollar.
Before it's here, it's on the Bloomberg Terminal.
LEARN MORE