Liberman Becomes Defense Chief as Netanyahu Touts Peace Plan
by
Israeli PM says Arab peace plan could help renew Mideast talks

Liberman pledges support for peace accord with Palestinians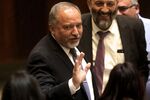 Avigdor Liberman, a lightning rod for international criticism, became Israel's defense minister Monday as part of a political deal that widens the base of Prime Minister Benjamin Netanyahu's fractious coalition government.
Netanyahu used Liberman's parliamentary approval late Thursday as an opportunity to call for new peace talks, pointing to a 14-year-old plan proposed by Saudi Arabia as a basis for negotiations with the Palestinians.
"The Arab peace initiative includes positive elements that can help revive constructive negotiations with the Palestinians," Netanyahu said in an e-mailed statement Monday. "We are willing to negotiate with the Arab states' revisions to that initiative so that it reflects the dramatic changes in the region since 2002, but maintains the agreed goal of two states for two peoples."
Parliament approved Liberman's appointment 55-43 after two weeks of political upheaval in which Netanyahu dumped Moshe Ya'alon as defense minister and embarrassed opposition chief Isaac Herzog by retracting an offer to have him steer future Israeli peacemaking as foreign minister.
Liberman, 57, was born in Soviet-era Moldova, immigrated to Israel in 1978 and lives in a West Bank settlement. A former foreign minister and leader of the Yisrael Beitenu party, he alarmed civil liberties advocates by proposing that Israel's Arab citizens take loyalty oaths and suggesting that the Gaza Strip's top Hamas leader, Ismail Haniyeh, be assassinated. Allies call him a pragmatic leader who has said he would leave his home in the Nokdim settlement if that is required in a peace agreement.
Wild Card
While Netanyahu may appear to have bolstered control of the government in his fourth term, Liberman has long been a political wild card, teaming up and splitting with him numerous times over a quarter of a century.
Netanyahu invited Herzog again to join the cabinet with the 23 other Knesset members of his Zionist Union. In the course of Netanyahu's aborted talks with Herzog, Egyptian President Abdel-Fattah El-Sisi offered to help broker an Israeli-Palestinian accord.
After taking the oath of office on the Knesset floor, Liberman pledged to observe the terms he accepted in negotiations to join the coalition led by the prime minister's Likud party, including peace efforts.
"I want to remind people that for many years Yisrael Beitenu decided and I spoke more than once about recognizing that same solution of two states for two peoples," Liberman was quoted as saying in Netanyahu's statement.
Before it's here, it's on the Bloomberg Terminal.
LEARN MORE