business
France Is on Strike But the Real Problem Is Even Worse: Q&A
By
New labor actions expected this week as transit workers join

PM Valls says he won't back down on controversial labor law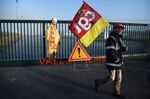 French President Francois Hollande is facing the most serious public unrest since he came to office four years ago. Most of the country's refineries have been on strike for a week. Protesters have blockaded refineries and fuel depots, causing shortages and long lines at gasoline stations. Air traffic controllers and electrical workers have joined in. And the turmoil has exacerbated a labor dispute already underway at the national railroad. 
While the French have stoically gone on with their lives, some protests have turned violent: a police car was torched on the streets of Paris May 18. This week, railroad workers, Paris transport employees and air-traffic controllers plan to strike, and some unions are threatening to disrupt the 24-nation Euro 2016 soccer tournament that begins June 10.
Aren't workers in France always on strike? What's different?
The ostensible cause of these disruptions, the most extensive since 2010, is a law loosening up some of the country's rigid labor rules. The standoff has undermined Hollande, already the most unpopular president in French history, less than a year before the next presidential election. A Socialist, he came to office in 2012 with the support of unions, many of whose members now feel betrayed by his attempts to loosen labor protection.
What do you mean, labor protection?
Labor law in France is governed by the "Code du Travail," an almost 4,000-page tome that covers everything from bathroom breaks to the size of windows in office. Layoffs can take years and require expensive payouts. The 35-hour work week, introduced in 2000 by a previous Socialist government, has further complicated the rules. France's unemployment rate has hovered at about 10 percent for three years, and organizations from the International Monetary Fund to the European Commission have urged a loosening of the rules. Germany did so in the mid-2000s and unemployment there is now 4.5 percent. Even one-time laggards such as Spain and Italy are now outperforming France on job creation after liberalizing their labor markets. 

So what's the government doing about it ?
Parties from the left and the right, when they've governed the country, have acknowledged that France's labor laws are too rigid while shying away from major changes. Campaigning in 2012, Hollande ran to the left, saying "finance is my enemy" and as president setting a 75 percent tax on high incomes. Then, after appointing Manuel Valls as prime minister in 2014, his government cut payroll and income taxes and pushed for looser labor regulations. Valls presented the so-called El Khomri law -- named after Labor Minister Myriam El Khomri -- last February.
Hasn't the government watered down the bill?

Yes, after protests in March. For instance, a proposed limit on severance pay was cut. That's why some major unions support the legislation in its current form (more on that later). One controversial element remains: a provision that would allow companies to ignore sector labor agreements (say, an accord that applies to all auto workers). Instead, they could negotiate contracts directly with their own employees. In addition, the bill would lower the minimum extra pay workers receive for working overtime. 
While the ability to negotiate deals at the company level was a key part of the German labor reforms of the early 2000s, many employees in France could face lower earnings if the bill becomes law.
I can see how unions wouldn't like that
Indeed, the CGT union, by some measures France's largest and the leader of the protests, wants the bill scrapped entirely. It's backed by Force Ouvriere, the third-largest. 
Not all are opposed. The CFDT, France's largest union by membership (but second to the CGT in elected company representatives), supports the bill in its current form. So does the CFE-CGC, which mostly represents white-collar workers.
It's not just about the provisions of the law. Valls and his economy minister, Emmanuel Macron, have angered some segments of public opinion, and even some of their party's own members, with their handling of the bill. The measure was presented earlier this year without any negotiations with unions, and with little explanation. Then when faced with a potentially rowdy parliamentary debate, the premier pushed it through by decree. The measure will be debated in the Senate starting June 13, and Valls has said repeatedly that he won't consider withdrawing the law.
Don't governments always give in to France's unions?
Less and less. And that's one reason the CGT is digging in its heels. A similar wave of strikes and gas shortages in 2010 failed to stop the government from raising the retirement age by two years. And strikes in 2014 failed to stop a reorganization of the national railroad. "The CGT wants to mark out its territory -- they need to show their followers they can be winners," said Claude Didry, a researcher at Ecole Normale Superieure of Cachan near Paris who just published a book called "The Institution of Work: a History of Labor Law." 
Even though they still play a key role in negotiating labor contracts in France, unions have never been weaker. Only about eight percent of French workers belong to one, compared with 11 percent in the U.S. and 18 percent in Germany, according to the OECD. The CGT, which grew out of the French Communist Party, had 4 million members in 1948 and has 700,000 now.
How does the French public feel?
France has a long tradition of supporting, or at least tolerating, public protests. According to a May 29 Ifop poll for Journal du Dimanche, 46 percent of respondents want the law withdrawn, 40 percent want it modified and only 13 percent want it to pass in its current form. In a poll for Le Parisien newspaper by Odoxa, 61 percent of those answering said the government was responsible for the escalating nature of the strikes, while 37 percent said it was "the irresponsibility of radical unions." Two-thirds said the government had handled the situation badly.
How's the French economy coping?

The strikes come just as output is showing some signs of life -- jobless claims have fallen for two consecutive months to their lowest in more than a year -- and Valls has warned the protests could derail the recovery. Business organizations issued a joint statement last week saying the fuel shortages were harming growth. An association that represents small- and medium-sized companies last week said 58 percent of its members were having trouble making deliveries and 47 percent had difficulty getting supplied. 

Still, economists say the impact of the strike on growth will probably be minimal. Larger businesses have the capacity to mute their effect, and lost output can be made up later. Police last week broke up blockades at fuel depots and the government dipped into strategic reserves, improving supply at gas stations. The general strike of 1995, which lasted about a month and was much more widely supported than the current action, wiped about 0.05 percentage point off of annual growth that year.
So how will all this end? What does it mean for France?


Hollande has supported his prime minister, saying that one union can't make the law. Valls did say in interviews over the weekend that he was open to "modifications" and "improvements," as long as companies remained able to negotiate their own contracts. Valls "will soften the labor bill to prevent strikes from spreading to other unions" but "these modifications are unlikely to alter the 'philosophy' of this already heavily diluted bill," Eurasia Group said in a note to clients. The Journal du Dimanche newspaper said the government might make concessions on unrelated labor disputes, such as at the national railroads, to undermine union opposition to the labor law.
One factor working in the government's favor: French strikes aren't as fearsome as they once were. Thanks to declining union membership and a 2007 law requiring minimum service for public transport, recent work stoppages have caused nuisances for commuters without bringing transport to a standstill.
— With assistance by Mark Deen
Before it's here, it's on the Bloomberg Terminal.
LEARN MORE