business
U.S. Stocks Cap Third Month of Gains as Fed View Propels Dollar
By and
S&P 500 posts advance for May despite 0.1% drop Tuesday

Japanese equity-index futures fall amid rebound in yen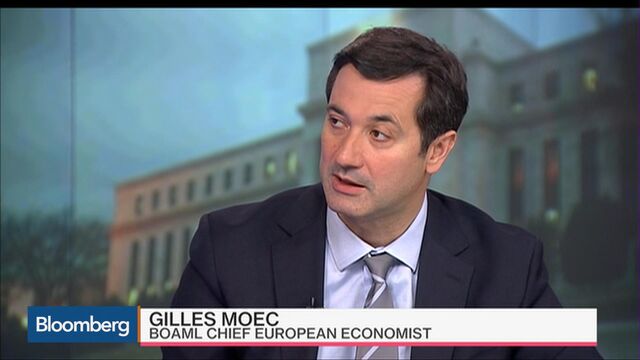 U.S. shares capped a third month of gains, their longest rally since June 2014, while the dollar ended May with its biggest advance in almost two years as speculation mounted that the American economy can withstand higher interest rates as soon as this summer.
While the S&P 500 Index slipped Tuesday, it all but erased a 0.5 percent slide in the last hour of trading, leaving it up 1.5 percent in May. Data showing consumer spending climbed the most in seven years bolstered the case for rate hikes, helping the dollar cap a 3.7 percent jump this month. Yields on two-year Treasury notes, the coupon securities most sensitive to Fed expectations, jumped 10 basis points in May. Gold halted a nine-day slide, while crude oil fell, trimming a fourth monthly advance, its longest climb in five years.

The Fed's rate outlook is occupying investors as futures show odds of a hike at the July meeting at more than 50 percent while gains in commodity prices from crude to crops bolster prospects for inflation. A report Tuesday showing U.S. consumer spending climbed in April by the most in almost seven years added to optimism that growth in the world's largest economy is robust enough to withstand what would be only the second rate increase in eight years. Payrolls data due Friday will also be scrutinized by investors.
"Markets are getting used to the notion that it would be appropriate that there's a Fed hike in June," said Ernie Cecilia, chief investment officer at Bryn Mawr Trust Co., which oversees $8.5 billion in Bryn Mawr, Pennsylvania. "You're seeing a drift downwards on light volume. Economic data is good, oil is trading in the tight range -- nothing dramatic there."
Stocks
The S&P 500 fell 0.1 percent to 2,096.96 as of 4 p.m. in New York, slipping from its highest level since April 20. The gauge briefly popped above 2,100, a level it failed to hold in April after snapping back from the worst-ever start to a year on record. Trading volumes Tuesday were 14 percent above the 30-day average. U.S. and U.K. equities markets were closed Monday for a holiday.
The longest rally for U.S. stocks in two years is occurring against a backdrop of investor disaffection. As the S&P 500 rose for three straight months, more than $11 billion was withdrawn from mutual and exchange-traded funds tied to U.S. equities, according to data compiled by Bloomberg and the Investment Company Institute.
MSCI Inc. implemented changes to its global indexes at the close of trading Tuesday as part of a semiannual review, spurring a jump in S&P 500 volumes in the final minutes of trading.
For more on the prospect of Chinese stocks joining MSCI's indexes, click here.
The S&P 500 has gained 2.6 percent in 2016, with most of the climb coming last week after a rally from February lows lost steam in April. The gauge has risen 1.8 percent in the second quarter and now sits 1.6 percent below its all-time high set May 21, 2015.
The Stoxx Europe 600 Index lost 0.8 percent with bank shares leading losses, trimming its third straight monthly advance to 1.8 percent, still the most since November. Investors in the region are focused on monetary policy, with the European Central Bank reviewing benchmark rates on Thursday, when President Mario Draghi will also speak to reporters.
Emerging-market equities fell 3.9 percent in May as concern over the Fed's rate plans dented the relative appeal of riskier assets. Brazil's Ibovespa plunged 10 percent this month, its worst since 2014. China's Shanghai Composite Index, the heart of a global selloff at the beginning of the year, fell 0.7 percent in May, a second month of declines.
Asian index futures signaled a mixed session Wednesday, with futures on Japan's Nikkei 225 Stock Average traded in Osaka down 0.9 percent to 17,080. Contracts on stock gauges in Australia, South Korea and Hong Kong's Hang Seng Index dropped at least 0.2 percent, while those on the FTSE China A50 Index were up 0.2 percent.
Currencies
The Bloomberg Dollar Spot Index, a gauge of the greenback against 10 major peers, climbed 0.1 percent Tuesday to cap its first monthly advance since January. The South African rand was the worst major performer versus the dollar in May, losing 9.4 percent, while the Taiwanese dollar slipped 1.1 percent for the best performance.
Brazil's real fell 1.2 percent Tuesday, bringing its May decline to 4.9 percent after the resignation of the second government minister in two weeks cast doubt on Acting President Michel Temer's ability to restore confidence in Latin America's largest economy.
The yen rebounded 0.4 percent to 110.73 per dollar, reducing its first monthly drop since January to 4 percent. Finance Minister taro Aso joined a string of Japanese lawmakers calling for a delay in the planned sales-tax increase as the government seeks to reduce shocks to the economy.
Bonds
Two-year Treasury notes had their worst monthly performance since December, when the Fed raised interest rates for the first time in nearly a decade. Yields on benchmark 10-year bonds retreated by one basis point to 1.85 percent Tuesday, leaving them up just one basis point in the month.
Throughout May, officials have underscored the Fed's intent to raise rates in 2016, perhaps more than once and as soon as June. Fed Chair Janet Yellen said in an appearance May 27 that policy makers would look to boost borrowing costs in the "coming months." Futures traders assign a 24 percent chance the central bank will hike at its June 14-15 review, up from 4 percent three weeks ago, and a 74 percent chance of a hike by year-end.
Commodities
Oil capped its longest run of monthly gains since 2011 as a spate of disruptions curb supply before OPEC meets Thursday to discuss production policy. West Texas Intermediate crude fell 0.5 percent to close Tuesday at $49.10 a barrel, trimming its May advance to 6.9 percent.
Oil has surged more than 85 percent since touching a 12-year low in February on signs the global surplus is easing amid declining output. The Organization of Petroleum Exporting Countries is unlikely to reach an agreement to limit production this week in Vienna as the group sticks with Saudi Arabia's strategy of squeezing out rivals, according to analysts surveyed by Bloomberg.
Gold advanced for the first time in 10 days to snap its longest selloff in more than a year as U.S. consumer confidence unexpectedly fell and manufacturing gauges weakened, boosting demand for the metal as a store of value. Gold lost 6.1 percent in May, paring this year's rally to 14 percent.
— With assistance by Dani Burger, Andrew Reierson, Lukanyo Mnyanda, Emma O'Brien, Alan Soughley, and Sally Bakewell
Before it's here, it's on the Bloomberg Terminal.
LEARN MORE