pursuits
Snow White Spotted at Wanda City Triggers Backlash From Disney
Bloomberg News
Snow White lookalike spotted in mall at entertainment complex

Wanda says its mall retailers brought in non-Wanda characters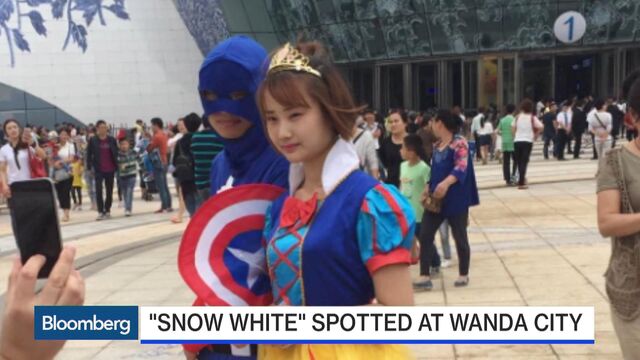 Walt Disney Co. said it's prepared to take action to protect its intellectual property rights after performers dressed as Snow White and Captain America were sighted at Dalian Wanda Group Co.'s new theme park and entertainment complex in China.
"We vigorously protect our intellectual property and will take action to address infringement," the company said in an e-mailed statement Monday in response to Bloomberg News queries about the characters, who resembled ones from Disney. "Our characters and stories have delighted generations, these illegal and substandard imitations unfortunately disappoint all who expect more."
The statement from Disney, which broke its silence since billionaire Wang Jianlin recently took a jab at the world's largest entertainment company, illustrates the escalating rivalry between the two. The Wanda chairman said just over a week ago that Disney's "one tiger" -- its Shanghai Disney Resort set to open on June 16 -- will be no match for Wanda's "pack of wolves," prompting the U.S. media company to say that Wang's comments were not "worthy of a response."
The Disney look-alikes were spotted at the official opening of the $3.2 billion Wanda City park complex in Nanchang, the first of his conglomerate's 15 planned theme park and entertainment projects in China that it hopes will help it unseat Disney as the world's largest tourism operator. The companies are vying for dominance of China's $610 billion tourism industry, which the government predicts will double by 2020 amid a growing middle class.

"The non-Wanda characters were operated by individual stores within Wanda Mall. They do not represent Wanda," Wanda said in an statement Sunday in response to Bloomberg's queries. The company declined to comment on Disney being prepared to protect its intellectual property.
Tourism City
The Wanda Cultural Tourism City, spanning 2 square kilometers (200 hectares) in southeastern Jiangxi province, features a theme park, a movie park, an aquarium, hotels and retail stores, according to the company. Wanda said it expects the complex to attract 10 million people a year.
The people dressed as Snow White and Captain American were posing for pictures with visitors in a non-ticketed area of the complex. Stuffed animals resembling the characters Pokemon and DreamWorks' Kung Fu Panda were also seen on sale.
"There's more than a passing similarity between the costumes seen at Wanda's park and designs registered by Disney," said Via Law Corp. director Wang Yingyu, who is based in Singapore. "Legally, the bottom line is that the owner of a space is responsible for infringement that has occurred, unless they argue that they cannot exercise control over their tenants -- which would require thorough proof that they have done all they can to control the situation."
Disney is very protective of its intellectual property rights and might want to proceed with legal action as a matter of principle, she said. "The issue in China has always been that damages awarded for infringement are generally not high," she said.
Wang, who vies with Jack Ma for the title of China's richest person on the Bloomberg Billionaires Index, had said he couldn't understand how Disney spent $5.5 billion on a park similar in scale to the Jiangxi province project, in an appearance on a China Central Television show. He also took shots at Disney's iconic characters and said the global media giant is "cloning previous products with no innovation."
Others have another take on the sightings of characters that resemble those of Disney's at the Wanda City park.
"The incident shows that Disney's intellectual property is so popular that shops use the characters as marketing," said Jennifer So, a Hong Kong-based tourism analyst at China Securities International. "Wanda doesn't have any IP to start with -- their model is more of a property developer, not an entertainment company."
Tickets for the outdoor theme park at Wanda's Jiangxi project are priced at 198 yuan ($30) on most days and 248 yuan on holidays and weekends. That's about half the price of Shanghai Disneyland, which charges adults 370 yuan each for regular tickets and 499 yuan during peak days.
— With assistance by Rachel Chang, and Emma Dong
Before it's here, it's on the Bloomberg Terminal.
LEARN MORE