Disney Sparks Theme-Park Battle to Entertain China's Middle Class
Bloomberg News
Dalian Wanda, Disney projects herald surge in venues in China

Parks to get up to 220 million visitors by 2020, Aecom says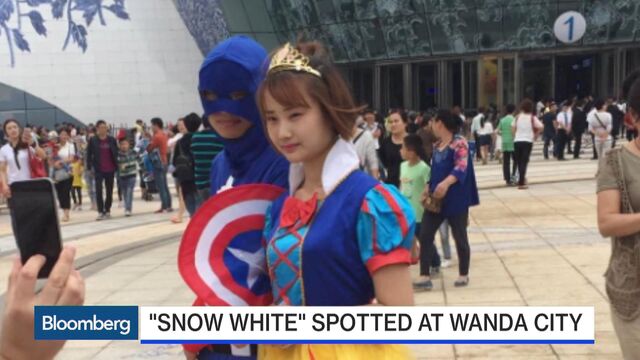 Beijing has Shijingshan, known as "Fake Disney," Shenzhen has a park with replica landmarks and Yunnan province has Dwarf Empire, an attraction based on little people. 

With already 300 theme parks in China, including some ranked among the world's worst, competition to amuse the nation's growing middle class is set to intensify. Dalian Wanda Group Co. opened a $3.2 billion project in southeastern Jiangxi province on Saturday, two weeks before the planned unveiling of Shanghai Disney Resort, Walt Disney Co.'s $5.5 billion mainland foray. Five dozen more entertainment venues are slated to start by 2020.
The new wave of attractions promises to transform China's outdoor entertainment landscape, where even unprofitable and badly-run fun parks helped draw about 120 million visitors last year. Industry consultancy Aecom predicts China's theme-park market will rival that of the U.S. after the new venues open, with 220 million visitors annually.
"Mainland Chinese consumers have upgraded a lot in their behavior in the last 10 years," said Jennifer So, a tourism analyst at China Securities International in Hong Kong. "They want experiences, not just shopping. That's why so many theme-park operators see opportunities there."
Tourism on a Tear
The government has predicted China's $610 billion tourism industry will double by 2020, spurred by a growing middle class. DreamWorks Animation SKG Inc. plans to open its $2.4 billion DreamCenter and Haichang Ocean Park Holdings will unveil what's slated to be China's biggest marine park next year. Six Flags Entertainment Corp. is due to open its first park outside North America in 2019. 
"In the end, the successful ones will be those who know how to operate theme parks, not just develop them," So said.
Disney, which opened Disneyland in Anaheim, California, in 1955, and Six Flags, which has run themed rides in the U.S. for more than 55 years, have an advantage when it comes to experience. Chinese operators counter that with their superior understanding of local conditions and what they see as better value for money.
Price Barrier?
Dalian Wanda Chairman and founder Wang Jianlin told a China Central Television show on May 22 that he couldn't comprehend how Disney had spent so much on its 390-hectare (963-acre) park in Shanghai, and that it would have to have high admission prices, which would drive away visitors. 
Tickets for the outdoor theme park at Wanda's Jiangxi project are priced at 198 yuan ($30) on most days and 248 yuan on holidays and weekends. That's about half the cost of admission to Shanghai Disneyland, where adults will pay 370 yuan each during the week and 499 yuan on peak days when the park opens on June 16.
Disney shouldn't have built an outdoor park in a city like Shanghai, where summers are rainy and winters cold, billionaire Wang added. A Disney spokeswoman said Wang's comments weren't considered worthy of a response.

Dalian Wanda, whose "Wanda City" in Nanchang features rides, shopping centers and an aquarium, may have a powerful ally. "The Chinese government is cautious about having too much Western content" in attractions, Aecom noted in its 2015 global theme parks report.
Ming Dynasty Classic
China shouldn't allow too many Disney parks, as this would make children indifferent to Chinese culture, Anhui province's representative on the Chinese People's Political Consultative Committee Li Xiusong said earlier this year at the annual political meetings in Beijing. He recommended parks and attractions be based on Chinese literary classics, like "Journey to the West," which was written during the Ming dynasty.
One of the most successful park operators in China currently is Songcheng Performance, which features live theatrical shows incorporating local indigenous culture across its seven theme parks. It climbed to 10th spot in Aecom's ranking of top theme park groups worldwide last year, with 22 million visitors, a 53 percent jump from the previous year.
"The key for theme-park success today is brand popularity," said John Gerner, an industry consultant in Richmond, Virginia. "That brand might be unique aspects of the local area and its history, but is increasingly a well-known intellectual property." 
Chinese developers should license popular characters or develop some of their own, Gerner said.
Mermaid Attraction
Some are doing that. Haichang Ocean Park will use characters from the Chinese-made blockbuster movie "the Mermaid" to promote the Shanghai Haichang Polar Ocean Park, a 297,155 square meter site an hour's drive from Shanghai Disneyland.
Still, the pull of well-known western characters is difficult to ignore. At Dalian Wanda's Wanda City park on the weekend, performers were dressed as Snow White and Captain America, and some stuffed toys for sale resembled DreamWorks' Kung Fu Panda character.

Disney said Monday it's prepared to take action to address any infringement of its intellectual property rights.
The following day, Wanda said Disney characters were used by individual stores in Wanda Mall, which is part of the Wanda City complex, but not inside the ticketed theme-park area. "Wanda Group pays great attention to intellectual property protection and holds many registered cartoon trademarks," it said in a statement.
Building sufficient cache with fresh intellectual property to lure park-goers could take decades, China Securities' So said. Local operators could benefit more in the near-to-medium term by competing on value, she said.
Mass Market
"It's a huge market, and the mass market is still more attractive in terms of volume than the premium one," she said. "A park like Haichang is not expensive, and people can visit it often, but Disneyland is expensive and would be something people go to only once every few years."
The Disney venture in Shanghai is located in Pudong, the business district that Shanghai began building in 1990 across the Huangpu River from the historical city center of Puxi.
Haichang prefers to adopt the "rising tide will lift all boats" approach, Chief Executive Officer Wang Xuguang said in an interview last week. "The Shanghai government is trying to build the Pudong district into the biggest tourism destination in East Asia, and I believe a mix of different theme parks is necessary for this huge plan," he said.
Industry Catalyst
Wang says Orlando, Florida, may be a model for Shanghai. "It has more than 10 different theme parks," he said. "And Ocean Park Hong Kong and Disneyland are creating synergy in Hong Kong, rather than pure competition."
Local operators could learn from Disney's experience and history, Wang said. "Disneyland provides what our consumers born in the 1980s and 1990s want in their experiences," he said. "They care about quality."
Disney's Shanghai park will be a catalyst for the broader amusement park industry, much like the way Hollywood films spurred movie-watching among Chinese, said Michel Brekelmans, co-head of L.E.K Consulting's China practice. Now, China's box office is poised to overtake North America's in a few years.
"Instead of competition, I actually think Disneyland will help the local players strengthen the theme-park culture in China, which is weaker compared to other markets," Brekelmans said. "Because of its strong brand, people who might not otherwise go to theme parks will go and be exposed to the concept. A project like Disneyland will open up a new part of the market."