Bullet Train Plan Drags India's Railway Into the 21st Century
by and
India is working with Japan on its first high-speed railroad

The Mumbai-Ahmedabad link may cost as much as $16 billion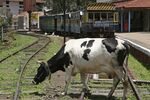 India may spend as much as $16 billion -- over $1 billion more than initially estimated -- on the nation's first bullet train to elevate the entire railroad, a person with direct knowledge of the matter said.
Land acquisition hurdles, as well as people and animals potentially wandering in front of carriages speeding at 350 kilometers (217 miles) an hour, make the option of an elevated link attractive, the person said, asking not to be identified as the plans are private. Construction starts in 2018, the person said.
India is working with Japan to build the 508 kilometer high-speed track from financial capital Mumbai to the economic hub of Ahmedabad in Prime Minister Narendra Modi's home state of Gujarat. A Japanese-designed Shinkansen train will connect the cities in a project initially estimated to cost 980 billion rupees ($14.6 billion), one of India's biggest infrastructure endeavors.
Modi's government is keen to elevate the entire railroad -- at an extra cost of about 78 billion rupees -- and operate the train from 2023, the person said. A dozen stations are planned and 2,000 jobs may be created in a project officials expect to spur economic growth, the person said.

A bullet train would help drag the world's fourth-largest railroad into the 21st century. The network carries about as many passengers daily as Australia's population, but is both congested and aging, with roots dating back to British colonial rule. Modi is seeking to spend 8.5 trillion rupees through 2020 on new tracks, trains and stations.
For more on Indian Railways' goal of a $126 billion overhaul, click here.
The challenge is to execute the bullet train project on time, said Gaurang Shah, vice president at Geojit BNP Paribas Financial Services Ltd. Success would help improve the railway's image, which has been battered by years of losses despite government investments, he said.
A $16 billion outlay would be close to 1 percent of India's $2 trillion gross domestic product, which is already expanding at the fastest pace among major economies. Japan has offered to fund 81 percent of the initial project cost with a 50-year loan at a 0.1 percent interest rate.
A state company is being set up for implementation, and at least half the spending will probably go to local contractors such as Larsen & Toubro Ltd., Gammon India Ltd. and GMR Infrastructure Ltd. for track and stations, the person added.
Anil Kumar Saxena, an Indian Railways spokesman, didn't immediately respond to an e-mail seeking comment.
Japan pioneered bullet trains, debuting them in time for the 1964 Tokyo Olympic Games. Since then, roughly 5.6 billion passengers have used the Tokaido Shinkansen, which links Japan's three largest metropolitan areas of Tokyo, Nagoya and Osaka, according to the Central Japan Railway Co.

About 15 billion rupees of the project will go to Japan for elements such as train design and signaling, the person said. India wants local train manufacturing, but one challenge is that companies may be reluctant to set up plants with Japanese partners without a pipeline of similar future projects, the person said.
India has a mixed record on railway infrastructure projects. 
A plan to add 3,360 kilometers of track dedicated to cargo trains, first announced in 2005, still hasn't been completed, with 14 percent of the land needed yet to acquired. In contrast, the 213-kilometer New Delhi-metro system is seen as defying perceptions that India's infrastructure projects are graft-addled and routinely exceed cost estimates.
'Start Somewhere'
While Modi has described the bullet train project as historic, opponents question the plan, arguing fares will be beyond the reach of many in a country where most people live on less than $3.10 per day. The money could be used on basic needs such as housing for the poor, according to main opposition Congress party.
A survey of the railroad's route is under way and will be used for the design of the link, the person said. The credit agreement with Japan for the long-term loan is due to be finalized this year, the person added.
"What you have to crack is the ability to replicate this technology -- to develop the capability in our country to do this in-house," said Rajaji Meshram, a director of infrastructure and government services at KMPG in New Delhi. "We have to start somewhere."
Before it's here, it's on the Bloomberg Terminal.
LEARN MORE