Boys' Club Image Overturned by Rise of Women Currency Traders
by and
Jury, Flax, Sutton among vanguard as gender balance shifts

Women are filling more slots in a market hit by scandal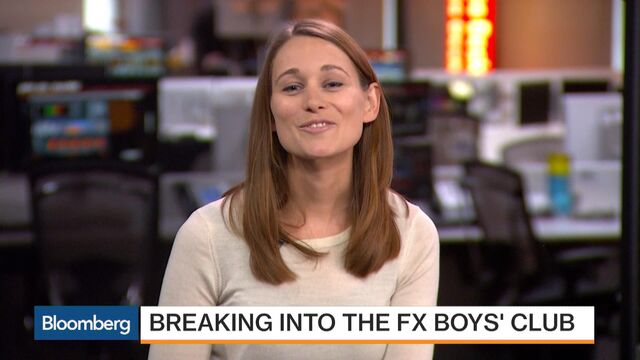 Peg Reed knew she was called "Miss Bitch" on the desk when she was trading currencies on 1980s Wall Street. While running foreign-exchange desks in New York at the same time, Charlotte DeBenedictis was paid less than the men working for her.
Today, these pioneers say that even as their successors climb to the highest echelons in the male-dominated world of currency trading, toughness is still at a premium.

"You had to have a thick skin to work on Wall Street," said Reed, who traded foreign exchange for Bank of America Corp., Credit Agricole SA, AIG Trading Ltd. and Standard Chartered Plc for two decades. "It wasn't for the faint of heart and you couldn't take things personally. But it was a very exciting world, and as you grow into senior positions, women have to show that strength."
In the wake of the trading scandals that rocked the foreign-exchange industry in recent years, the new vanguard of female leadership includes Claudia Jury, who was appointed co-head of foreign exchange and emerging markets at JPMorgan Chase & Co. two years ago; Catherine Flax at BNP Paribas SA and Camilla Sutton at Bank of Nova Scotia, who were both promoted last year. They're chipping away at Wall Street's bros' club -- in the 21st century jargon of a gender-bias lawsuit filed in New York this month.
"There are quite a lot of senior women and an even larger number of juniors coming up," BNP's Flax said in an e-mailed response to questions.
As more women reach management level, they're increasingly using that influence to address the gender imbalance. Flax says BNP Paribas has promoted women to lead electronic markets in both London and New York. JPMorgan's Jury hosts panel discussions to recruit female students and sits on the executive committee of the Corporate & Investment Bank's Women's Network.
"When I look above me, there are women but they're few and far between," said Sutton, Toronto-based head of global foreign exchange at Scotiabank, Canada's third-largest lender. "My bosses and the people who've led the businesses have typically been men. Hopefully we're changing that."
'3 Musketeers'
The industry is still reeling from a price-rigging scandal that led to $10 billion in fines and penalties in the past 18 months and prompted dealers to suspend or fire staff in the wake of a transatlantic crackdown. With traders accused of meeting to manipulate the $5.3 trillion-a-day currency market in chat rooms filled with locker room banter and groups that called themselves "the 3 musketeers" and "the A-team," the scene remains dogged by its boys-club image.
"If you have to clean up house, you've got to get rid of all these male traders that were involved in a variety of market scandals, so then that clears room for women," said Mayra Rodriguez Valladares, a former employee at the Federal Reserve Bank of New York. She now trains bankers and regulators as managing principal of consulting firm MRV Associates. "Women know that they're such a minority, that there's such a pressure on them not to screw up, and so they're a lot more careful. The environment they're walking into is not the environment before, where it was all about 'how much money can I make.' It's also about keeping the firm from bad decisions."
The female executives said they rely on support from family and friends in a world known for its long hours and intense working environment.
Pay Difference
"I had one pregnancy where I was trading and went into labor, and I refused to go to the hospital because I wanted to be sure that I had got rid of my position," said Reed, who went on to help launch the Hotspot platform and work on other trading products. "It was never a question that I would go to my boss and ask if I could have six months off. The man sitting next to me wouldn't do that."
Compensation remains a difficult subject for women in all industries. Women today are being paid the average wage men earned almost a decade ago, and it will take 118 years before men and women earn equal pay at the current rate of convergence, according to a World Economic Forum report published in November. The average U.S. woman earns about $430,000 less than her male counterparts over the course of her career, according to an analysis by the National Women's Law Center, a non-profit advocacy group.
For more on gender income inequality, click here.
Of the highest-paid executives in U.S.-listed financial firms, only two are women. They are Ji-Yeun Lee, managing partner of PJT Partners Inc., and Mary Callahan Erdoes, the chief executive officer of JPMorgan's asset management unit. They rank 21st and 44th, respectively, in finance on the Bloomberg Pay Index. The rankings track top-paid executives at companies that trade on U.S. exchanges.
That shortfall resonates with DeBenedictis, who left currency trading in 1999 after a career with firms including Rabobank, Credit Lyonnais and Scotiabank.
"I was never paid what I was worth," DeBenedictis said. "The money aspect really was so totally unfair. The final straw was when I hired a senior trader for almost three-times what I was making."
And even as women present a growing force within foreign exchange, gender parity remains a distant goal. At a November conference hosted by Finance Magnates for retail currency brokers and financial technology firms, 18 percent of participants were female, up from 14 percent a year earlier. While Reed took part in one of the event's keynote panels, she declined to attend a closing party at London's Cirque Le Soir. The nightclub showcased dancers in nipple tassels and live snakes.

Regardless of generation or gender, there's little room for complacency in the ferociously competitive currency market. For Scotiabank's Sutton, that means the bottle of champagne her husband bought to celebrate her promotion was left chilling in the fridge for almost a year for fear of jinxing any future success.
"It still very much feels like there's a lot to achieve, and I won't be satisfied until we achieve those things," she said. "It still feels like there's a big ladder to climb ahead of me -- maybe it never feels like you're there. Maybe that's what keeps you coming back every day."
Before it's here, it's on the Bloomberg Terminal.
LEARN MORE