Airbus Aims to Overcome A320, A350 Issues to Lift Deliveries
by
Deliveries are running about 37 planes behind schedule

Airbus shifting A320 production to older model to meet target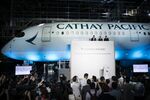 Airbus Group SE stuck to plans to increase plane deliveries this year as it pushes to overcome a series of problems affecting production of its newest aircraft.
Faced with engine issues on the A320neo and cabin-equipment delays for the A350 wide-body, the manufacturer expects to catch up in the coming months to meet its target of increasing deliveries to 650 planes in 2016 from 635 last year, Airbus executives said Monday at a briefing in Hamburg. Through April, Airbus has shipped 177 jets, roughly 37 planes short of the expected pace.
"We are working full steam," said Didier Evrard, aircraft program director, adding that 2016 is proving to be one of the most challenging years he's had since joining Airbus about a decade ago.
An acceleration in Neo deliveries is on hold until the second half as engine maker Pratt & Whitney works to fix a turbine glitch, leaving completed planes piling up in Toulouse and Hamburg waiting for engines. The rampup will also be bolstered as Airbus starts installing A320neos with an engine alternative from the CFM International joint venture of General Electric Co. and Safran SA. Bottlenecks in the manufacture of interiors for the twin-aisle A350 is gradually easing as suppliers including Zodiac Aerospace push to meet deadlines to supply seats and galleys.
Seat Delays
Still, Airbus is confident it will meet 2016 targets partly by shifting some single-aisle production to the A320ceo model. The company will soon announce an order for 15 of the older Ceo model from lessor AWAS, people familiar with the deal said separately.
Airbus had originally said that about one in five single-aisle planes delivered in 2016, or roughly 100, would be Neo variants. The newer, more efficient model, which has a list price of $107.3 million compared with $98 million for the older version, is becoming a tougher sell with oil prices at current low levels, according to Chief Operating Officer Tom Williams.
On A350s, there are 40 in final assembly, and Airbus is putting in extra work stations to get cabin equipment installed quickly. Last weekend, the company delivered its 10th A350 so far this year to Cathay Pacific Airways, after finally receiving seats from Zodiac,
company executives said.
Before it's here, it's on the Bloomberg Terminal.
LEARN MORE