1MDB Pays Coupon on Debt After Missing Two Interest Payments
by
Troubled investment company pays 143.8 million ringgit coupon

1MDB missed two coupon payments previously amid dispute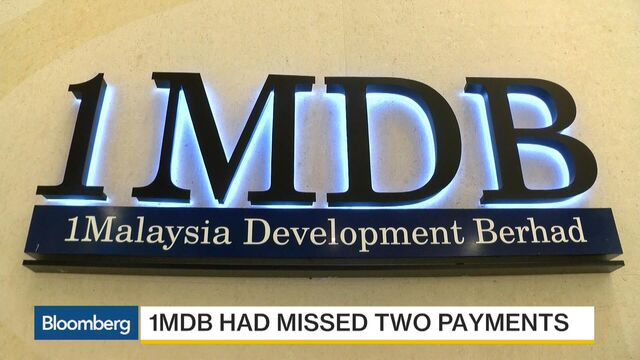 Malaysia's troubled state investment company 1Malaysia Development Bhd. paid the coupon on its Islamic debt after missing two payments on other securities earlier.
1MDB undertook the scheduled payment of 143.8 million ringgit ($34.9 million) on its 5 billion ringgit 5.75 percent notes due 2039, according to an e-mailed statement.
The company had previously missed the coupons for two sets of dollar-denominated bonds amid a dispute with Abu Dhabi's International Petroleum Investment Co., which had guaranteed the debt. That led to a default by 1MDB in April, adding to the financial scandals for the company that is already a target of global investigations into allegations of money laundering and embezzlement. 1MDB has consistently denied wrongdoing.
"1MDB has ample liquidity to make interest payments and service its current debt obligations," President Arul Kanda said on Monday. "1MDB reiterates that, notwithstanding the dispute with IPIC, it will continue to honor current debt obligations."
The payment was expected, as 1MDB has been clear it would pay obligations on notes guaranteed by itself and the government rather than by IPIC, according to S&P Global Ratings analyst YeeFarn Phua. "I think they are simply doing what they are saying," Singapore-based Phua said.
1MDB's separate $1.75 billion of 5.99 percent notes due 2022, which are guaranteed by IPIC, rose 0.1 cent to 103.7 as of 4:39 p.m. in Hong Kong.
Before it's here, it's on the Bloomberg Terminal.
LEARN MORE