'Operation Tulip' Takes Prosecutors Offline for Google Tax Raid
By
Confidentiality needed given Google's activities: prosecutor

It's a fight between David and Goliath, Houlette tells Europe1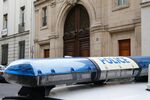 French investigators avoided the Internet, stuck to word processors and renamed Google 'Tulip' to prevent leaks as they prepared a secret tax raid at the company's Paris offices last week.
"We decided to never utter the word 'Google,' to give the firm another name" and "we worked on this case fully offline for nearly a year," Eliane Houlette, the financial prosecutor, said in a Sunday interview on French radio Europe1.
French police and prosecutors swooped on Google's Paris offices last Tuesday, intensifying a tax-fraud probe amid accusations across Europe that the Alphabet Inc. unit fails to pay its fair share. France has called on the company to pay back taxes of about 1.6 billion euros ($1.8 billion).
"We worked with computers, but pretty much only with word processing." Total confidentiality was key "given the activities of the company," Houlette said. "The name 'Tulip' came up because the mother ship was registered in the Netherlands."
Irish Unit
The raids are part of a preliminary criminal investigation opened in June 2015 after French tax authorities lodged a complaint, the nation's financial prosecutor said. The probe is seeking to verify whether Google's Irish unit has permanent establishment in France and whether the firm failed to declare part of its revenues in France.
Google spokesman Al Verney didn't immediately respond to requests for comment.
"Through Google France -- which employs about 700 people -- they strike advertising deals with industrial and economic operators, yet this company is a front," she said. "Google says the Irish company" handles the work. "This is a case of permanent-establishment avoidance." Google "nearly doesn't pay any taxes," according to Houlette.
Criminal investigations take a while in France, and this case won't be an exception.
"We've collected a lot of data, several terabytes I believe," Houlette said. Analyzing that vast amount of information "will take months, I hope not years." Investigators have "limited" technological means and would need "extremely efficient software" worth about 200,000 euros to speed up their work.
"It's pretty much a fight between David and Goliath," she said.