The Real Question for OPEC: Who'll Be Its New Top Official?
by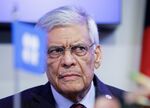 As internal opposition to Saudi Arabia's plan to squeeze rival suppliers fades, OPEC might not have a big policy question to debate when it meets next week. Nevertheless, the group will still have one thing to argue about: Who will replace Abdalla El-Badri as the next secretary-general?
Why Does OPEC Need to Pick a New Top Official?
El-Badri, a Libyan, was originally due to stand down in 2012 after serving the maximum six years in the position. The group has been extending the 76-year-old's term ever since as squabbling members failed to agree on a successor. That approach seemed to reach its limit at The Organization of Petroleum Exporting Countries' last meeting in December, which was dominated by bitter arguments over the role
Frustrated at their inability to push OPEC into cutting crude production to boost prices, Venezuela, Ecuador, Iran and Algeria pressed for El-Badri's departure. The final communique from the meeting resulted in a compromise, with the Libyan's title modified to acting secretary-general and a July deadline set for his exit.
Who Are the Candidates?
Iraq, Iran and Saudi Arabia all nominated candidates for the position in 2012, but political tensions between the Gulf rivals meant each blocked the others' applicants. In recent months, three new hopefuls have emerged to try and break the impasse: Nigeria's Mohammed Barkindo, Indonesia's Mahendra Siregar and Venezuela's Ali Rodriguez.
Barkindo, who briefly headed the Nigerian National Petroleum Corp., has experience in the role, having been acting secretary-general in 2006 after serving for a number of years as one of country's representatives to OPEC. While Venezuela's Rodriguez was the group's top official from 2001 to 2002 and headed state oil giant Petroleos de Venezuela SA, he is two years older than El-Badri. Indonesia's Siregar, a former deputy finance minister, doesn't have management experience in the oil industry.
How Important is the Role?

The Secretary-General doesn't decide OPEC policy, which is set by member countries. Still, as the organization's public representative, the position gives the power to shape its message, making the holder an important voice in oil markets who sometimes has the ability to move the price of crude. El-Badri has often acted as the group's chief diplomat, brokering an agreement on record output cuts in 2008 and resolving OPEC's internal differences after a 2011 meeting that ended in acrimony.
What Happens if There's no Decision?
If no unanimous decision is reached to choose a new secretary-general, the position "shall be appointed on a rotational basis for a term of two years," according to article 28 of OPEC's statute. This is what happened for much of the decade before El-Badri's appointment, with the position filled by representatives from countries holding OPEC's presidency -- a largely ceremonial role that is transferred alphabetically between members.
Qatar's Energy Minister Mohammed al-Sada is the current OPEC president, and the next will be Khalid Al-Falih, the recently appointed energy minister of Saudi Arabia. This is potentially an unappealing prospect for members still dissatisfied with OPEC's Saudi-led market strategy. Of course, OPEC could simply repeat its habit of the past four years and invite El-Badri to stay on.
Before it's here, it's on the Bloomberg Terminal.
LEARN MORE