Netanyahu Denies Police Recommended Indicting Wife on Spending
by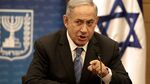 Israel Prime Minister Benjamin Netanyahu denied media reports that police had advocated trying his wife Sara for misuse of state funds at the family residence.
"In the police statement there was no recommendation to bring Mrs. Netanyahu to trial," the prime minister said in a statement posted to his official Facebook page. "In contrast to reports, Mrs. Netanyahu did not commit any crime."
Channel 2 television and the Haaretz newspaper both said earlier on Sunday that the police backed a trial, without saying how they got the information. The police said the same day that an investigation had been concluded and that evidence was being given to the Jerusalem District prosecutor to decide what action to take.
Israeli Comptroller Joseph Shapira issued a report last year recommending that Sara Netanyahu's spending on food, cleaning, make-up and clothing be investigated. The report said there is "concern about an alleged breach of integrity that borders on suspicion of a criminal act."
Before it's here, it's on the Bloomberg Terminal.
LEARN MORE