Merkel Joins Hollande to Defend EU at World War I Commemoration
by and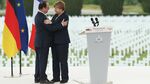 The leaders of France and Germany criticized opponents of the European Union during an event marking the 100th anniversary of a World War I battle that left 700,000 of their nations' soldiers dead or maimed.
"They denounce Europe as the source of evil, without realizing that Europe was created out of the ravages of evil," French President Francois Hollande said at a cemetery at Verdun, eastern France, where 130,000 French and German soldiers are buried. He didn't name any specific people or groups.
German Chancellor Angela Merkel also highlighted the role of the EU in tackling current crises as the region's leaders seek to fend off populist opposition to the 28-nation group. Nationalist parties are gaining support across the continent, and U.K. voters will decide in a June 23 referendum whether to quit the bloc.
EU unity is needed "for the European debt crisis, our dealing with the many people who are seeking refuge in Europe, and for all the other great challenges of our time," Merkel said.
Speaking near a line of crosses at the Douaumont cemetery, which stretch almost to the horizon, Hollande also noted that Jews and Muslims fought for European armies during the First World War.
Merkel was the second German chancellor to attend ceremonies at Douaumont. She followed Helmut Kohl, whose sudden gesture of holding hands with President Francois Mitterrand in 1984 went onto become a symbol of French-German reconciliation.
Before it's here, it's on the Bloomberg Terminal.
LEARN MORE