business
Japan's Retail Sales Stall as Abe Mulls Delay to Tax Hike
By
Recession followed previous increase in levy in 2014

Private consumption remains weak amid wage stagnation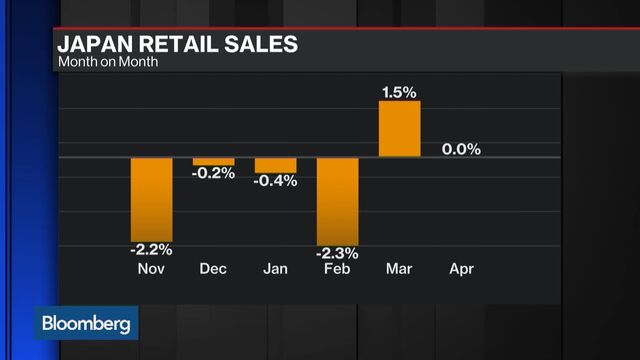 Japan's retail sales growth stalled, underscoring weakness in private consumption and increasing the likelihood that Prime Minister Shinzo Abe will delay a sales-tax increase planned for next year.
Sales were unchanged in April from the previous month, a government report showed Monday. The median forecast of economists surveyed by Bloomberg was for a 0.6 percent decline. From a year earlier, sales fell 0.8 percent, compared with a decline of 1.2 percent forecast in the survey.
Abe told fellow leaders a Group of Seven summit last week in Japan that there is a significant risk of the world economy falling into a crisis on the scale of the 2008 financial crisis if the right policy measures aren't taken. That's fueling speculation that Abe will soon announce a delay in the consumption levy hike to help support spending. A sales tax increase led to a recession in 2014.
"Retails sales don't indicate that Japan's economy is going to have a solid recovery or that inflation will clearly pick up," said Hiroshi Miyazaki, an economist at Mitsubishi UFJ Morgan Stanley in Tokyo. "We are far from where we can be optimistic about consumer spending. I expect recovery in consumer spending to be very gradual."

Japan needs to delay increasing the sales tax until late 2019 to sustain its economic recovery, Abe adviser Hakubun Shimomura said on Fuji television over the weekend.
The yen weakened 0.6 percent versus the dollar to 110.98 at 11:58 a.m. in Tokyo while the Topix stock index advanced 0.7 percent.
Abe said last week he'll make a decision before an upper-house election this summer on whether to go ahead with a planned hike in the levy next April to 10 percent, from 8 percent.
He had previously said the matter would be decided at an appropriate time and that it would be postponed only if there was a shock on the scale of a major earthquake or a corporate collapse like that of Lehman Brothers.
Postponing the sales tax increase could bolster the popularity of Abe's ruling Liberal Democratic Party before the election. Economists are now asking whether the prime minister may also announce an economic spending package to boost the fragile recovery.
Since the previous tax hike in 2014, the economy has moved back and forth between contraction and growth. Consumer spending remains weak and inflation data released Friday shows that consumer prices are falling again.
— With assistance by Toru Fujioka, and Tomoko Sato
(
Adds comment from economist in fourth paragraph.
)
Before it's here, it's on the Bloomberg Terminal.
LEARN MORE