Iran Boycotts Hajj Pilgrimage Amid Discord With Saudi Arabia
by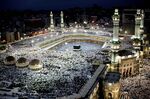 Iran will boycott the Hajj pilgrimage in a further sign of deteriorating relations with Saudi Arabia, exacerbated by the death of hundreds of Iranian pilgrims in a stampede outside Mecca last year.
"Given the treatment and rhetoric by Saudi officials in two rounds of talks with the Iranian delegation and the obstacles created, in effect Hajj won't be possible," Iran's official Islamic Republic News Agency cited Culture Minister Ali Jannati as saying on Sunday. "Unfortunately, Iranian pilgrims won't be able to make it to Mecca this year."
Saudi Arabia blamed Iran for the decision, which followed weeks of talks on the logistics for the pilgrimage. On Saturday, Iran's foreign ministry accused Saudi Arabia of politicizing the issue and heightening tensions. Saudi Arabia severed diplomatic ties in January following a mob attack on its embassy in Tehran, which was prompted by its execution of a Shiite Saudi cleric.
The rivalry between Saudi Arabia and Iran has intensified since the latter's nuclear deal with world powers ended most sanctions and opened up the Islamic Republic to global markets. A major Saudi concern is that Iran will use the proceeds from investment to boost its engagement in regional conflicts, including in Syria and Yemen.
Iran stopped sending Hajj pilgrims for three years following clashes during the Hajj in 1987 between Saudi security forces and pilgrims that resulted in the death of more than 400 people, most of them Iranian, according to Iran's Hajj and Pilgrimage Organization.
Some 460 of the more than 700 pilgrims who lost their lives in last year's stampede during the Hajj were Iranian, Iranian officials have said.
Before it's here, it's on the Bloomberg Terminal.
LEARN MORE