Hong Kong Stock Brokers Cry Foul at Fees Crimping Their Profits
by
Traders urge review of exchange's unique fee structure

Australia, Tokyo have lower costs compared to Hong Kong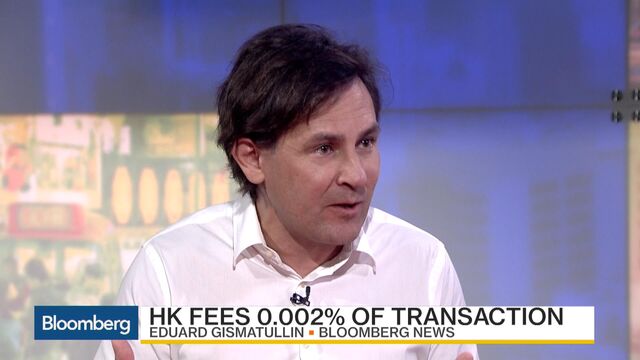 Brokers in Hong Kong are being slapped with fees vastly higher than peers elsewhere in the region, prompting claims that the national stock exchange's rules aren't just out-of-date and confusing, they're eating into profits.
Hong Kong Exchanges & Clearing Ltd., like stock exchanges elsewhere, charges a fee for settling trades. At first glance, it's a tiny amount: 0.002 percent of a transaction's value. But it can never be less than HK$2. Because the average size of trades has shrunk, that mandatory minimum charge is a bigger headwind for brokers because it eats into a trade's value.
Brokers' frustration stems from how trading works in modern times. Years ago, a big order had a better shot at being executed all at once. Today, electronic trading strategies tend to slice up bigger orders into smaller slices, so the HK$2 minimum matters more. The fees add to rising competition and falling commissions to make some trades barely profitable, executives from Credit Suisse Group AG and Nomura Holdings Inc.'s brokerage unit Instinet LLC said.
"The market has advanced significantly over the past decade and it is time to
change," said Hani Shalabi, head of Asia-Pacific advanced execution services at Credit Suisse. "Hong Kong exchange is becoming more and more expensive to trade every year. Measuring profitability can be challenging."
Fee Trigger

About 90 percent of trades filled by the Hong Kong exchange trigger the minimum charge, according to data from Credit Suisse. The minimum settlement fee has been in place for 22 years, way before high-speed traders came to dominate markets.
Any equity transaction of less than HK$100,000 ($12,900) in value incurs the minimum levy. The charge translates into trading costs of about 0.0076 percent of transaction value on average, or 0.76 basis points, according to Credit Suisse estimates.
That's three times more than Tokyo Stock Exchange charges, and is double the fees in Australia's largest stock-trading venue, ASX Ltd., according to the bank's data. Relatively high fees have kept high-frequency trading firms, which are dominant liquidity providers on other markets around the world, mostly away from Hong Kong. Though some hate HFT firms, they have transformed other asset markets, and, according to many experts, helped lower trading costs.
Shalabi estimates that the Hong Kong exchange is the only major operator in Asia with the fixed-minimum cash settlement fee on the execution.
Little Choice
There are few incentives for change, especially as brokers have little choice but to trade with the Hong Kong monopoly. The city's equity market last year posted record daily equity trading turnover, with the average trade size reaching about HK$73,300, according to Bloomberg calculations based on HKEx data. The Hong Kong exchange earned about 18 percent of its sales, or about HK$2.4 billion, in equity market clearing and settlement fees last year.
"We don't have a plan to change the fee right now," said Calvin Tai, head of clearing at the Hong Kong bourse. "There is a lot of exercises that we are going to do, which may affect our cost structure."
Costs escalate for large orders. Instinet estimates that a HK$1 million order, traded all at once, would rack up 0.21 basis points for trading, clearing and settlement. The firm calculates that the same order in 500 trades would cost 12.50 basis points.
"Since our clients pay us in basis points, it would be ideal to see the HKEx costs mirror this, rather than having a dollar value with a minimum that is very difficult to control and model," said Joel Hurewitz, the global head of broker-dealer strategy at Instinet Pacific unit in Hong Kong. "With the relatively thin profit margins, we are always conscious of our costs."
Australia Comparison
Australian traders have it a bit easier. ASX, which agreed to cut its equities clearing fees by 10 percent from July, made about A$90 million ($65 million) from clearing and settlement in its last financial year. That's about 13 percent of operating revenue. The Australian government in March agreed to end ASX's monopoly on equities clearing to encourage competition between exchanges.
Some Hong Kong brokers are adjusting their trading models, slicing up orders into bigger chunks to minimize charges, said Matija Maretic, chief technology officer at algorithm vendor Marvelsoft SA in Hong Kong. He declined to name any firms. The risk of sending large orders, however, tips a broker's hand, allowing rivals to turn against the trade.
"Brokers have to carefully find the balance as they want to keep clients happy," Maretic said. "If HKEx changes the pricing structure it would make brokers' lives easier."
Before it's here, it's on the Bloomberg Terminal.
LEARN MORE