Goldman Sees End of Yuan 'Sweet Spot' Spurring Fund Outflows
Bloomberg News
China will have to impose curbs to slow exit of funds: Song

Foreign reserves to drop to $2.7 trillion by year-end: Daiwa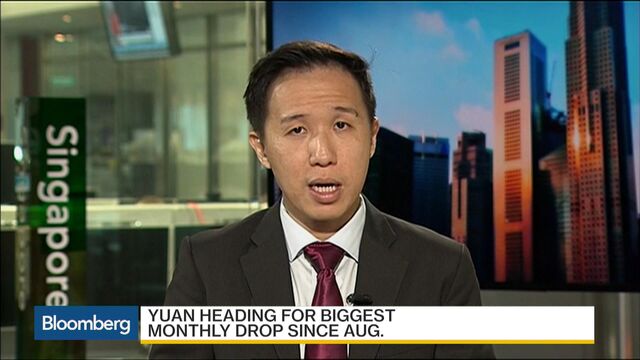 The end of a temporary sweet spot that China enjoyed with its exchange rate -- strength versus the dollar and weakness against trading partners -- will spur renewed capital outflows, Goldman Sachs/Gao Hua Securities Co. said.
With the U.S. poised to raise interest rates and pressure building on China to ease monetary policy, cash outflows will accelerate, said Song Yu, chief China economist for Goldman Sachs/Gao Hua. The yuan is down 1.6 percent this month against the greenback, with policy makers setting the currency's daily fixing at the weakest level in five years on Monday, and up 0.2 percent against a basket of peers.
The yuan's retreat has investors and analysts watching for any repeat of the turmoil ignited by a surprise devaluation in August, which spurred an estimated $1 trillion in annual capital outflows, or the volatility in January that roiled global markets. Increasing outflows will fail to spark the same alarm this time round because the People's Bank of China has many policy tools to manage the depreciation, Song said.
"The government is likely to resort to what they did in the second half of last year and earlier this year, which is adding more curbs and stepping up regulation of fund flows," Beijing-based Song said in a May 26 interview. "But this is very much like a game of a cat trying to catch the rats -- whenever the government manages to block a hole through which capital leaks out, people can always dig another hole to bring the money out over time."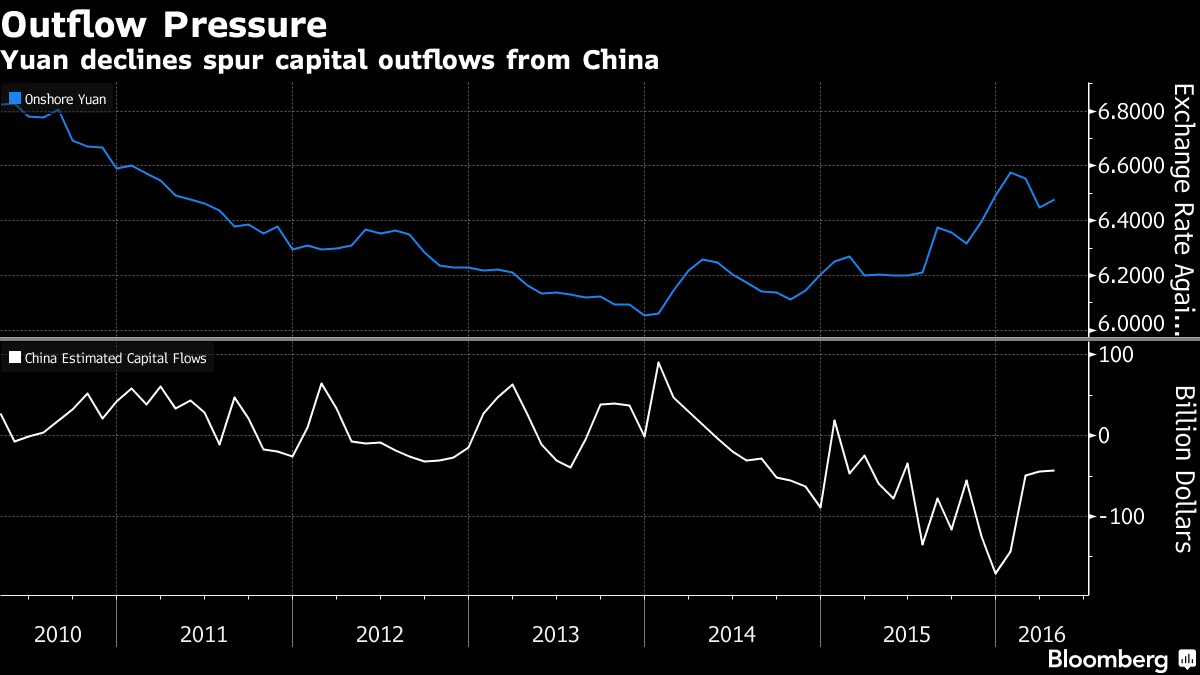 The PBOC in February and March followed a dual strategy of allowing limited gains versus the dollar to combat capital outflows, and guiding depreciation against the currencies of trading partners to help exports. That plan, aided by the greenback's biggest quarterly decline since 2010, has been thwarted by a surge in the U.S. currency as the Federal Reserve prepares to raise borrowing costs. Traders are now putting the odds of a U.S. interest-rate increase next month at 30 percent, compared with 4 percent two weeks ago.
"There are more pressures for China's foreign reserves to drop further, but as the yuan basket has fallen meaningfully this year and the exchange rate is closer to its fair level, the downward pressures won't be as significant as last year," said Song. "It's like China is putting out a fire -- although the PBOC has less water in its hands, the fire is not as intense as it was last year."
Song expects the yuan to trade at 6.8 a dollar in a year's time, a 3.2 percent decline from 6.5819 Monday afternoon.
Illicit Channels
China has been clamping down on illicit channels used to get money out of the country, from curbing purchases of overseas insurance products to stopping friends and family members from pooling their $50,000-a-year quotas to export large sums of money. Still, companies and savers continue to move cash over the border, such as through Hong Kong with suspected fake trade invoices.
A resurgence of capital outflows would make it more expensive for companies to repay dollar debt, reduce global fund managers' willingness to invest in the yuan and revive speculative trades. The PBOC burned through $513 billion of its foreign-currency stockpile propping up the exchange rate last year, before improved market sentiment helped spur a modest increase in reserves in March and April.
Foreign Reserves
The nation's reserves, still the world's largest at $3.2 trillion, will drop to $2.7 trillion by the end of this year and to $2 trillion in about a year, according to Kevin Lai, Hong Kong-based chief economist of Asia ex-Japan at Daiwa Capital Markets. The yuan will weaken 12.2 percent to 7.5 a dollar by the end of this year, he said, making his forecast among the most bearish. The consensus estimate is for a drop to 6.67.
A Chinese state-run bank has revealed the inner workings of the yuan's reference rate mechanism, including details on the lenders that provide prices as well as how the system was tweaked following market turmoil in January.
"The yuan will depreciate gradually," said Song. "The main driver for the decline would be a stronger dollar on the back of the expectation that the Fed will raise interest rates. We are seeing two rate hikes this year, one in June, July or September, and another one in December."
— With assistance by Tian Chen
Before it's here, it's on the Bloomberg Terminal.
LEARN MORE